Story Progress
Back to home
Aam ki Chutney Recipe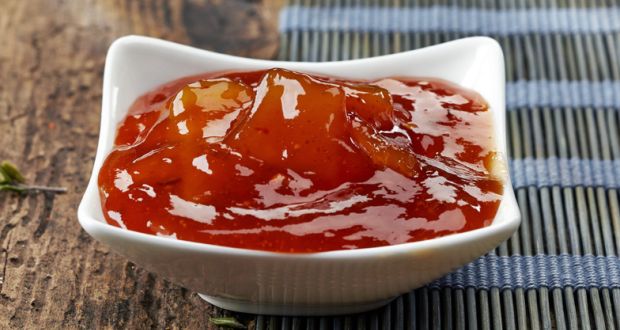 How to make Aam Ki Chutney
About Mango Chutney Recipe | Aam Ki Chutney: Mango or Aam, is a summer fruit that nobody can ever resist. They are generally sweet but the taste can vary sometimes due to the type of mango used. Mango is the most widely loved summer fruit by kids and adults alike, mainly because of its versatility to many dishes. From mango shakes to mango pickles to mango chutney, this fruit can be consumed in any form during the summer season.
Ingredients of Aam ki Chutney (Mango Chutney) recipe: Mango chutney or Aam ki chutney is a nice and tangy side-dish made with mangoes, peppercorns, bay leaf, asafoetida and cloves. This sweet and spicy mango chutney recipe can spruce up your meal in a second. Raw mango is the main ingredient for this chutney and this makes it a bit sour to taste as raw mangoes have a very sharp and sour taste.Raw mangoes are also an excellent source of Vitamin C upping the nutritional value of this recipe.
Best Way to Enjoy Aam ki Chutney | How to Serve Mango Chutney: Savour Aam ki Chutney with rice and dal, spread it over sandwiches/rotis or simply use it as a dip for snacks; this will come handy in most of your dishes.
Benefits of Aam Ki Chutney recipe (Mango chutney): Aam ki chutney has a benefit that any aam (mango) lover would rejoice for! You can store this delicious Mango chutney for a long time in an airtight jar and serve it with Parantha, sandwiches or chapati whenever you want.

Ingredients of Aam ki Chutney
1 Kg Raw mangoes (peeled), grated
4 cups Sugar
3/4 cup Salt
1/4 cup Chilli powder
1 tbsp Peppercorns powder
2 Bay leaves
1 tsp Asafoetida (Heeng)
1 tbsp Cloves
An airtight sterilised jar
1.
In a steel or a glass bowl, mix in the grated mango and sugar.
2.
Tie with a piece of muslin and keep in the sun, stirring twice a day for about 4 days.
3.
Mix in the salt, chilli powder, peppercorns and powdered garam masala and continue sunning till the sugar dissolves.
4.
Transfer into a sterilized jar and store.
Recipe Notes
This recipe uses raw mango for the sharp sour taste, but you can use ripe mangoes as well for a more sweeter taste of the chutney.
If you loved our Aam Ki Chutney recipe, you would definitely love more of our Indian chutney recipes here.
If your craving for mangoes doesn't satiate with just chutney, you can make the tangy Aam Panna too!