Story Progress
Back to home
Aggari Style Lobster Curry Recipe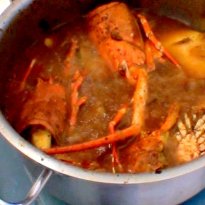 How to make Aggari Style Lobster Curry
Scrumptious lobsters cooked in a range of spices, freshly made garam masala and raw mango flavours.
Total Cook Time

1 hr 10 mins

Ingredients of Aggari Style Lobster Curry
2 tbsps vegetable oil
Lobsters
3 raw mangos
4 - 5 chopped white onions
¼ nutmeg
5 - 6 cloves
4 - 5 cloves of garlic
8 - 9 bor chilies
1 tsp turmeric powder
1 bay leaf
brown cardamom
2 small sticks cinnamon
1 tsp red chili powder
2 - 3 split green chilies
1/2 tbsp black pepper
Salt to taste
1.
Devein the lobsters and keep aside, do not discard the lobster heads.
3.
Dry roast black pepper, cloves, cinnamon sticks, bor chilies and bay leaf in a pan.
4.
Grind these along with ground nutmeg in a mortar and pestle.
7.
Add onions, cloves of garlic, split green chillies, 2 chopped raw mangoes and saute for 10 minutes.
8.
To this, add 3 1/2 tsps of the freshly prepared garam masala, red chili powder, turmeric powder, salt to taste and 2 cups of water.
9.
Into this, add the lobster heads and one more chopped raw mango.
10.
Bring to a boil and let simmer for 20 - 25 minutes.
11.
Strain the curry and into the liquid add the deveined lobster tails and a few pieces of raw-mango. Let this cook over a low flame for 5 minutes.
12.
Garnish with chopped fresh coriander and serve hot.