Story Progress
Back to home
Andhra Pepper Chicken Recipe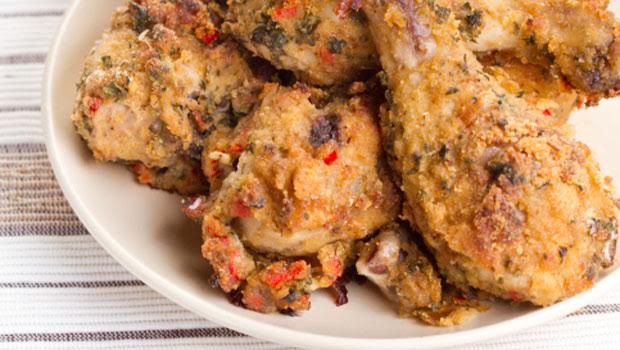 How to make Andhra Pepper Chicken
Chicken marinated with coriander and lemon and cooked on high heat with curry leaves. It is a perfect evening time snack that can be enjoyed by all.

Ingredients of Andhra Pepper Chicken
500 gm chicken drumsticks
10 gm turmeric
50 gm ginger garlic paste
100 gm green chilli paste
Salt to taste
50 ml lemon juice
Oil to pan fry
5 gm cumin seeds
2 gm curry leaves
100 gm onions
50 gm coriander powder
50 gm crushed pepper
50 gm coriander leaves
1.
Chop the onions and the coriander leaves.
2.
Marinate the chicken drumsticks with turmeric, ginger garlic paste, green chilli paste, salt and lemon juice. In a kadai heat oil and add cumin seeds.
3.
After they crackle, add the chopped onions and saute till they turn golden.
4.
Add curry leaves, coriander powder and crushed pepper. Saute for 2 more minutes and add the marinated chicken.
5.
Sear on high flame, then reduce heat and cook for a further 15 minutes stirring occasionally.
6.
Sprinkle chopped coriander leaves and cook for 2 minutes.
7.
Before serving garnish with more crushed pepper and coriander leaves.