Story Progress
Back to home
Apple and Celery Salad Recipe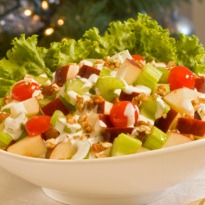 A crisp salad with apples, carrots, celery dressed in honey-lemon. Enjoy a de-toxifying salad and stay healthy.

Ingredients of Apple and Celery Salad
For the salad:
1 apple, thinly sliced
1 carrot, finely sliced
A handful of chopped celery stock
A handful of chopped celery leaves
A handful of parsley, chopped
2 tsp sunflower seeds
1/2 tsp linseeds
1 tsp pine nuts
For the dressing:
1 1/2 tsp honey
2 tsp olive oil
1/4 tsp finely chopped ginger
1/2 lemon juice
1.
Place all the salad ingredients in a bowl.
2.
In another bowl combine all the dressing ingredients.
3.
Pour the dressing over the salad and mix well.