Story Progress
Back to home
Apple Toffee Recipe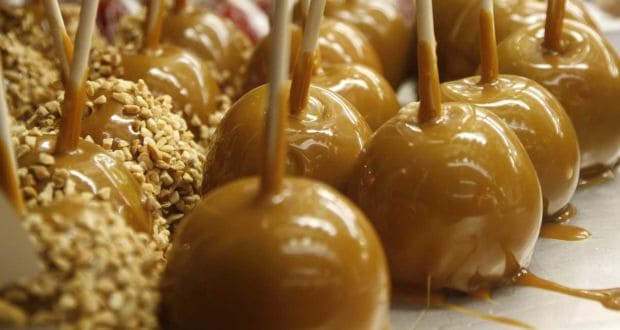 How to make Apple Toffee
Apples coated in a flour based batter and deep fried. Dipped in a tasty sugar and sesame glaze.

Ingredients of Apple Toffee
3 medium size cooking apple
1 egg
2/3 cup cold water
1 cup plain flour
Peanut oil for deep frying
For the Glaze:
1 1/2 cup sugar
1/2 cup cold water
2 tsp black sesame seeds
1.
Quarter the apples, Peel and core the pieces, than cut each quarter into 2 thick slices, 3 if the apple are large. Set aside.
2.
Beat the egg in a medium size bowl, add the water and beat again until combined, than tip in all flour at once and beat vigorously with rotary beater until batter is smooth.
4.
Let batter stand while preparing glaze. As sugar cook start to heat oil for deep frying.
5.
Try to have oil for frying and sugar glaze ready at the same time. if oil is not put over too high a heat this should not be difficult.
6.
When the haze begins to rise from the surface of the oil drop pieces of apple into the batter, turn to code them completely.
7.
Then take one piece at time with fork and drop it into the oil. Do not cook too many at one time.
8.
Deep fry until the batter is golden. Then lift out with a slotted spoon and put straight into the sauce pan containing the glaze.
9.
Turn piece of apple in the glaze to coat the entire surface, then lift out and drop into a bowl containing cold water and ice cubes.
10.
The glaze will harden and become brittle almost at once. Lift them out quickly and put on a lightly oiled serving plate.
For Glaze
1.
Put sugar and water into a small saucepan and place over medium high heat.
2.
Do not stir at all. Let sugar mixture bubble until it starts to turn faintly golden around the edge of the pan.
3.
Stir in sesame seeds and turn heat as low as it will go.