Story Progress
Back to home
Babycorn Bezule with Peanut Chutney Recipe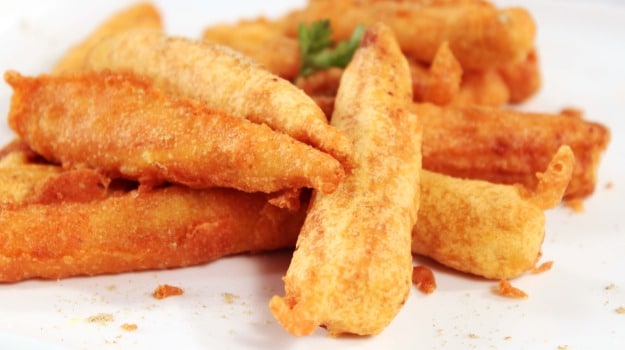 How to make Babycorn Bezule with Peanut Chutney
About Babycorn Bezule with Peanut Chutney Recipe: Babycorn marinated and deep fried, tossed in masala and served with a peanut chutney.

Ingredients of Babycorn Bezule with Peanut Chutney
500 Gram Babycorn
3 Lemons
4 tbsp Ginger garlic paste
2 tsp Turmeric powder
2 1/2 tbsp Degi mirch powder
3 tsp Garam masala powder
1/2 cup Rice flour
1/2 cup Corn flour
3 litre Oil (for frying)
1/4 cup Coconut oil
1 tbsp Mustard seeds
100 gram Madras shallots
4 tbsp Green chilli, chopped
4 tbsp Ginger, chopped
10-15 Curry leaves
1/4 cup Yogurt
60 gram Green coriander, chopped
For Peanut Chutney:
100 gram Peanuts
50 gram Dessicated coconut
1 tbsp Refined oil
2 1/2 tbsp Ginger, chopped
2 1/2 tbsp Garlic, chopped
2 tbsp Onions, sliced
5-6 Dry red chillies
2 1/2 tbsp Tamarind pulp
1 tsp Mustard seeds
10-12 Curry leaves
1 tbsp Coconut oil
to taste Salt
Prepare Babycorn Bezule:
1.
Clean and wash the babycorn, marinate with lime juice, ginger-garlic paste, turmeric powder, degi mirch powder, garam masala powder and salt.
2.
Add the rice flour and corn flour, mix well.
3.
Fry the babycorn until cooked and keep aside.
4.
Heat the coconut oil in a pan; add mustard seeds let them crackle. Then add sliced shallots, slit green chilies, ginger and curry leaves saute for few minutes.
5.
Now add the yogurt and the fried babycorn saute for another 2 minutes.
6.
Garnish with chopped coriander leaves. Serve hot on banana leaves with peanut chutney.
Prepare peanut chutney:
1.
To make the chutney, toast the peanuts and coconut in a pan.
2.
Add oil, chopped ginger, garlic, onions, dry red chilli and tamarind pulp.
3.
Prepare mustard seed and curry leaf tempering in coconut oil.
4.
Add this tempering and grind to a coarse paste.
5.
Adjust seasoning and serve.