Story Progress
Back to home
Baked Mushroom and Lentils Fritters Recipe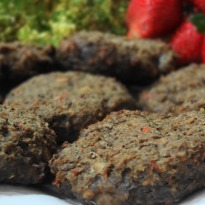 Winner of the weekly Guilt Free contest makes a batch of mouth watering fritters with the goodness of masoor dal and mushrooms. These lovely fritters are baked, not fried. They are extremely healthy and also very delightful.
Total Cook Time

1 hr 10 mins

Ingredients of Baked Mushroom and Lentils Fritters
1/2 cup masoor daal
1 bay leaf
1/2 cube vegetable bouillon (broth)/water
100 gm white mushrooms
1/4 cup oats
Mixed dried herbs and spices (oregano, parsley, thyme, red chilli flakes)
1 small onion (finely chopped)
1-2 garlic cloves (finely chopped)
2 Tbsp red wine
1 tsp soy sauce
1 egg (optional)
Salt and pepper to taste
1.
Rinse the daal and add to a pan with 1 cup of water.
2.
To the pan add the bouillon and bay leaf. Bring the water to boil, then lower the flame, and let it simmer for 10-12 minutes. The daal needs to become soft but not completely done.
3.
Remove from the heat, drain, and let it cool for a few minutes.
4.
In a food processor, add the cooked daal, mushrooms, oats, and spices. Pulse, until the mixture is semi-coarse.
5.
In a pan saute the onions and garlic.
6.
Add the pulsed mushroom-daal-oats mixure and cook for a few minutes.
7.
Add the red wine (brings out deep flavours), soy sauce, and salt and pepper. Mix to form a consistent mixture.
8.
Now is the turn to make the fritters. Add whisked egg into the mix to help binding while baking. This is optional and vegetarians can bake without the egg
9.
Make fritters out of the mixture and bake in full temperature (250 C) in a well pre-heated oven for about 25 - 30 minutes or until the fritters become crisp on the outside.
10.
Serve with ranch/mayo dip.
11.
Mridul Karkara, winner of the Guilt Free contest: Week 7.