Story Progress
Back to home
Basil Pesto Hummus Recipe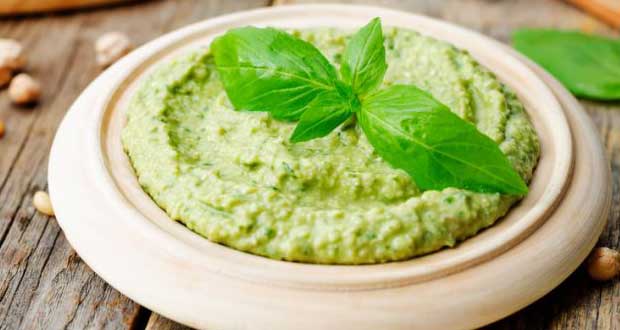 This recipe brings together the two most popular condiments - pesto and hummus. Serve it with crisp toasts or vegetable crudites and win praises from your friends and family.

Ingredients of Basil Pesto Hummus
2 cups chickpeas, boiled
4-5 garlic cloves
¼ cup of pine nuts
1 cup of basil leaves, plus extra for garnish
1/2 cup olive oil, plus extra for topping
¼ cup of Parmesan
2 Tbsp of lemon juice
Salt to taste
2.
1. First prepare the pesto sauce: mix basil leaves, garlic, Parmesan and pine nuts in a blender. Add the olive oil, a little at a time to emulsify, and continue blending until all the ingredients come together.
3.
2. Add the chickpeas and salt, and blend again until smooth.
4.
3. Transfer to a bowl, and add the lemon juice. Mix well and check seasoning. Finish with a drizzling of olive oil, a sprinkling of red chilli powder and fresh basil leaves on top. Serve with pita breads.