Story Progress
Back to home
Beetroot and Avocado Tartare Recipe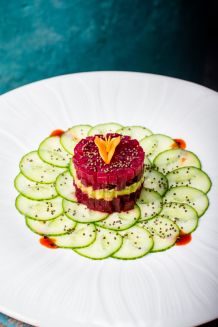 A light, healthy snack that is perfect for any season. This tartare is easy to make and tastes absolutely delicious.

Ingredients of Beetroot and Avocado Tartare
Ingredients:
120gm beetroot
Seasonings, as per taste
20ml sunflower oil
60gm avocado
30gm cucumber
For the marination
10ml lemon juice
1 Tbsp sugar
10ml water
1 tsp sesame seed paste
1 tsp soya sauce
For the Avocado Marination with Spicy Mayo
30gm egg-less Mayonnaise (ready to use)
5gm chilli garlic paste
For the Garnish
5 tsp roasted poppy seeds
3 gm blanched edamame pods/ green peas
5 gm Kimchi dressing (ready to use)
1.
1. Wash and peel the beetroots. Season them with salt and pepper, and rub with oil. Wrap them in silver foil and roast in the oven for about 15-20 minutes at 140 degree Celsius until they are cooked. Cool, and cut into small dices.
2.
2. Peel the avocado and cut into small dices.
3.
3. Slice cucumber into rounds and arrange on a plate in concentric circles.
4.
4. To make the marinade, mix together all the ingredients, and add beetroot and avocado to the it. Keep it aside for 5 minutes.
5.
5. Take a round mould, and neatly layer the beetroot at the base, followed by a layer of avocado. Finish with a layer of beetroot on top, sprinkling some poppy seeds between each layer.
6.
6. Garnish with blanched edamame / green peas, and serve with kimchi.