Story Progress
Back to home
Brinjal Sambar Recipe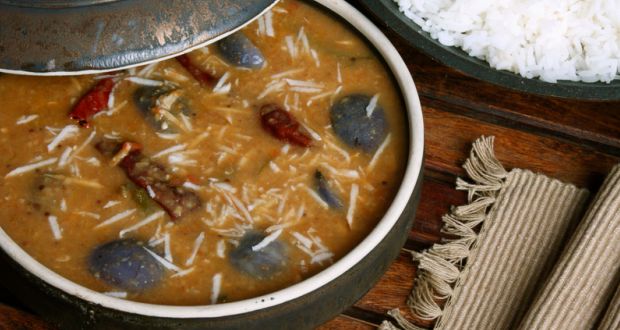 The South Indian favourite sambar recipe with the addition of brinjals.

Ingredients of Brinjal Sambar
1 cup yellow lentils (arhar or toover daal)-cooked to a thin consistency
Salt to taste
1 Tbsp sugar
3 Tbsp sambar masala
3 Tbsp tamarind pulp
2 tsp mustard seeds
7-8 leaves of curry leaves
2-3 whole dry red peppers
4-6 small whole egg plants-washed and slit into 2
1 big onion-cut into quarters
2 Tbsp oil
1 Tbsp chopped coriander leaves to garnish
1.
1. Add the sambar masala, sugar, egg plants and onions to the cooked lentils and cook till the vegetables are tender (approximately 15 minutes).
2.
2. Add the tamarind pulp. Heat the oil in a saucepan and add the mustard seeds, whole red peppers and the curry leaves.
3.
3. Turn around 2-3 times, and add the lentil mixture to it, bring to a boil, then simmer for about 5 minutes.
4.
4. Garnished it with some coriander leaves and serve hot.