Story Progress
Back to home
Cabbage Salad Recipe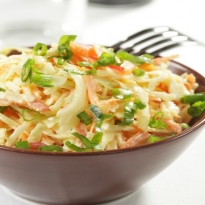 How to make Cabbage Salad
Light and healthy, topped with a French dressing.

Ingredients of Cabbage Salad
4 Medium Tomatoes
1 Capsicum
1 Red capsicum or Pimento
Red pepper (coarsely ground)
250 gram Cabbage
1/8 tsp Black pepper
3 tbsp French dressing
1 tsp Salt
1.
Skin and de-seed the tomatoes and cut them into strips.
2.
Shred the cabbage, capsicum and the pimento into very fine strips.
3.
Prepare the French Dressing and add the red pepper, salt and black pepper.
4.
Keep the vegetables chilled and the dressing separately and mix just before serving.