Story Progress
Back to home
Caesar Salad Recipe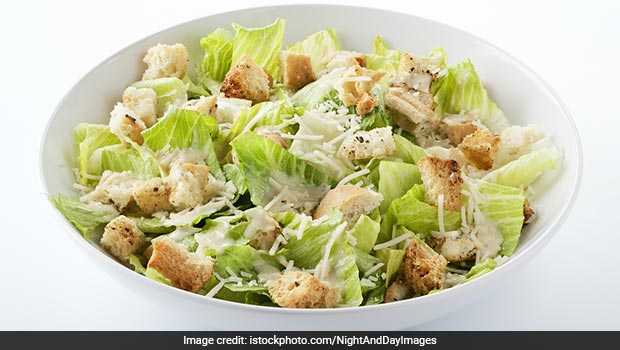 How to make Caesar Salad
The classic Caesar salad recipe with croutons, eggs, cream and lettuce.

Ingredients of Caesar Salad
24 Lettuce leaves (crisped)
1/2 cup Cream
1 tsp Salt
1/2 tsp Black peppercorns (ground) (pissi kali mirch)
1 tsp Garlic, finely chopped
1/2 cups Cheese, grated
2 Eggs (diced small), boiled
1/2 cup Bread croutons (cubed and fried bread)
1.
Wash the leaves well and wipe dry. Place them in an airtight container or plastic bag, seal and leave in the chiller tray for 3-4 hours
2.
Mix together, the cream, salt, kali mirch, garlic and cheese.
3.
Break up the crisped lettuce, add the croutons and eggs, mix in the cream mixture and serve immediately.
4.
Note: In case you are serving later, keep everything ready separately and mix together just before serving, so the leaves stay crisp.
5.
You can use a combination of these vegetables that are available and use the same dressing or any other dressing like French Dressing.