Story Progress
Back to home
Cheese Fondue Recipe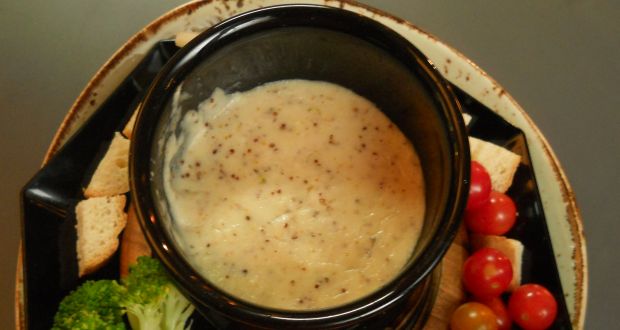 How to make Cheese Fondue
About Cheese Fondue Recipe: Fondue is a Swiss dish made with melted cheese. For all the cheese lover, Emmenthaler and Gruyere cheese melted and drizzled with some white wine. Dip blanched vegetables like broccoli and baby corn in this hot mixture and enjoy the cheesiness in every bite.
Total Cook Time

1 hr 05 mins

Ingredients of Cheese Fondue
100 Gram Swiss-style cheese such as Emmenthaler, shredded
100 gram Gruyere cheese, shredded
2 tbsp Corn flour
1 cup Dry white wine (such as Sauvignon Blanc)
1 tbsp Lemon juice
1/2 tsp Dry mustard
A pinch of Nutmeg, grated
1 Broccoli, chopped
6 Baby Corn, chopped
1.
Mix the cornstarch and the shredded cheese in a bowl. Set aside in the fridge.
2.
Chop broccoli and baby corn, blanch them in hot water and transfer them into ice water.
3.
Add the wine and lemon juice to the pot, and bring to a low simmer on medium heat. Bit by bit, slowly stir the cheese into the wine. Stir constantly in a figure of eight pattern.
4.
Please make sure that the mixture does not boil by regulating the temperature. Cook just until the cheese is melted and creamy.
5.
Once the mixture is smooth add the grain mustard and grated nutmeg. Keep stirring.
6.
Transfer the cheese to a fondue serving pot, set over a low flame to keep warm. If your pot is thin-bottomed, a lit candle will probably do.
7.
If thick-bottomed, you can use a small Sterno.
8.
Serve with bread and vegetable.