Story Progress
Back to home
Chicken Chowmein Recipe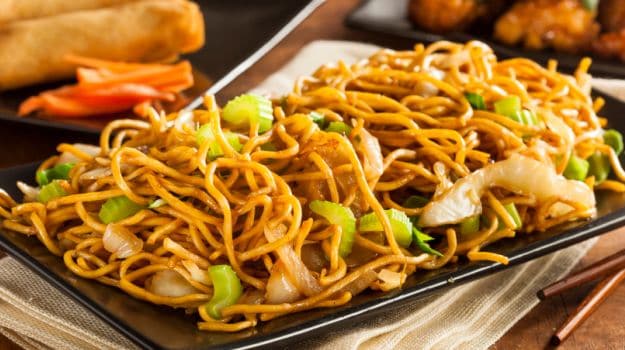 How to make Chicken Chowmein
Glossy noodles tossed with shredded chicken and all the classic condiments - soya sauce, celery, vinegar and chilli sauce.

Ingredients of Chicken Chowmein
200 gm dried noodles
1 tsp salt
2 Tbsp oil
6 Tbsp (90 g) oil
1 large (3/4 cup) sliced onion
1 Tbsp finely chopped garlic
1 cup cooked shredded chicken
1 tsp salt or to taste
1 tsp soya sauce, adjustable
2 Tbsp chopped celery or 1/2 tsp celery salt
1 Tbsp vinegar
1 tsp chilli sauce
1.
In a large saucepan bring about 5 cups of water, 1 tsp salt and 1 tbsp oil to a boil.
2.
Note: Add the noodles and let them cook till 'bite like'-- when pressed between the thumbnail and the forefinger, the cut should be felt through (that is, it should offer some resistance). If over done, the nail will hardly feel the texture and if under done, you will need to apply some pressure and the inside will be whiter.
3.
Drain the water and immediately put the noodles under running cold water, to stop further cooking, and continue till cool.
4.
Rub the remainder of the 1 tbsp of oil into the noodles and leave in a colander to drain further. This is best done ahead of time.
5.
Heat the 6 tbsp oil and stir-fry the onions and the garlic over high heat, till a light brown.
6.
Add the chicken and salt and turn around a few times.
7.
Add the soya sauce, celery, vinegar and chilli sauce and mix well.
8.
Last of all, add the noodles, mix well and serve hot.