Story Progress
Back to home
Chilli Gobhi Recipe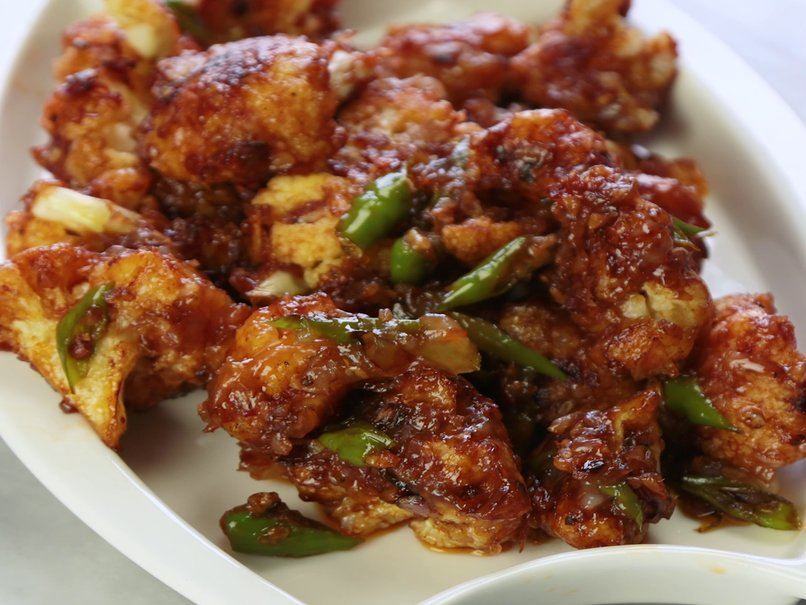 How to make Chilli Gobhi
NDTV Food
Chilli Gobi is a truly delicious Indian snack and a hit among vegetarians and non-vegetarian equally. Chili Gobi recipe can be easily made in less than half an hour once the ingredients are ready. Like any other Indo-Chinese recipes, even Chilli Gobhi recipe has two variants, dry and gravy recipe. This is dry version of Chilly Gobhi and it is an ideal party starter or even served as side dish.

Ingredients of Chilli Gobhi
3 Cup Water
1 tsp Salt
1 cup Cauliflower
1/2 cup Cornflour
2 tsp Salt
1 tsp Black Pepper Powder
2 tsp Ginger
2 tsp Garlic
1 Onion, chopped
5 Green Chillies
1/2 tsp Soya Sauce
2 tsp Tomato Sauce
1/2 tsp Vinegar
2 tbsp Red Chilli Sauce
1 tsp Black Peppercorns (Grinded)
1/2 cup Cornflour (mixed with water)
1.
Take water in a pan, add salt and let it boil. 2.
Add cauliflower to the boiled water. 3.
After completely soaking the cauliflower, take it out and put in a bowl. 4.
Add cornflour, salt and black pepper powder to the bowl. 5.
Mash the ingredients thoroughly in the bowl. 6.
Now, put the cauliflower pieces in to the frying pan for deep frying, 7.
After frying, reduce the oil from the frying pan.
8.
Add ginger and garlic to the reduced oil and saute. 9.
Now, add onion, green chillies, soya sauce, tomato sauce, vinegar, red chilli sauce, salt and Black pepper corn.
10.
Saute all these ingredients together to form a reddish black paste. 11.
Add the fried cauliflower to the pan and mix it with the paste thoroughly. 12.
Take some cornflour mixed with water in a cup and add it to the pan. 13.
Mix well and serve hot. Watch the step by step recipe of Chilli Gobhi here:
Recipe Notes
To enhance the taste of the dish further, you can also add green onions.