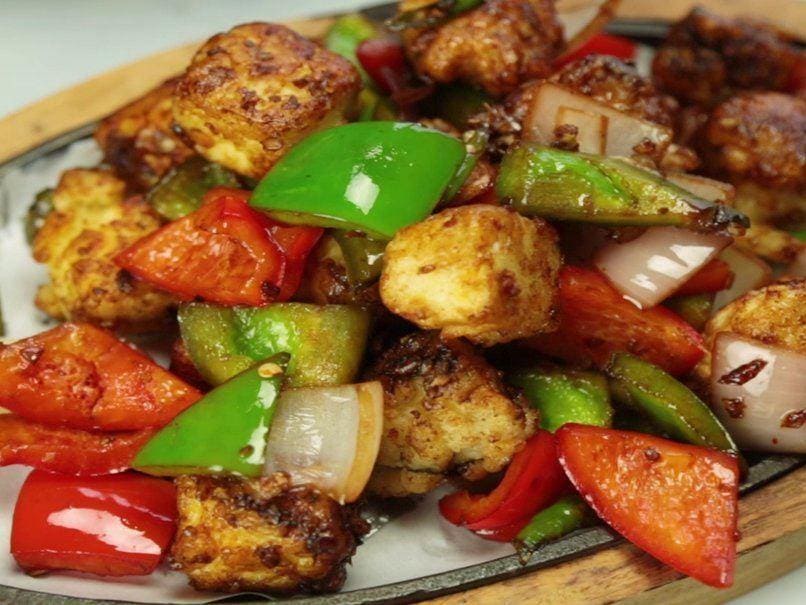 Chilli Paneer is a popular restaurant style Indo chinese starter. This recipe yields one of the best chilli paneer dry that pairs well with a veg fried rice, schezwan fried rice, hakka noodles, or can be served as a starter.
Ingredients of Chilli Paneer Dry
15-16 cubes Paneer
6 Tbsp Corn Flour
3 Tbsp Maida
1/8 tsp Black Pepper
1 tsp Salt
1/2 Cup Water
1 Tbsp Oil
1 Tbsp Garlic
1 Tbsp Ginger
2 Nos Green Chillies
1 Nos Onion
1 Nos Green Capsicum
1 Nos Red Capsicum
1/2 tsp Red Chilli Sauce
1 tsp Soya Sauce
1/2 tsp Vinegar
How to Make Chilli Paneer Dry
1.Take Paneer in a bowl.
2.Add cornflour, maida, black pepper and salt.
3.Add a little water and mix thoroughly.
4.Deep fry the paneer until golden brown.
5.Take oil in a pan, add garlic and ginger
6.Saute a little and add green chillies and onion.
7.Saute together and add red capsicum and green capsicum.
8.Now add the fried paneer followed by red chilli sauce, soya sauce and vinegar.
9.Saute all the ingredients together.
10.Serve hot.
Watch the step by step recipe of Chilli Paneer Dry here:
Recipe notes
Always choose naturally brewed or organic soya sauce, others may have added msg, coloring and harmful chemicals. check the labels before you use.
Key Ingredients:
Paneer, Corn Flour, Maida,
Black Pepper
,
Salt
, Water, Oil,
Garlic
,
Ginger
,
Green Chillies
,
Onion
, Green Capsicum, Red Capsicum, Red Chilli Sauce,
Soya Sauce
,
Vinegar