We can all agree that belly fat is the hardest to lose. No matter how many fad diets or fitness regimes we've tried to follow, we somehow always struggle to lose the fat around our stomach. Don't you agree? While the internet is filled with tips and tricks to lose belly fat in a matter of days, there is no substitute for a healthy diet. If you're looking for results that are long lasting, you must try to inculcate habits that you can follow on a regular basis. And what better way to do this than by starting our day on a healthy note? In this article, we have curated a list of low-carb Indian breakfast recipes that may help you get rid of stubborn belly fat. Take a look.


Also read: 5 Winter Foods That May Help Cut Belly Fat On Weight Loss Diet
Here Are 5 Low-Carb Indian Breakfast Recipes For Weight Loss:
1. Oats Idli (Our Recommendation)
Nothing defines comfort better than a plate full of hot and fluffy idlis. A perfect breakfast food, this oats idli offers a great blend of both taste and health. Oats are high in fibre and ideal for those who are health conscious. Click here for the recipe of Oats Idli.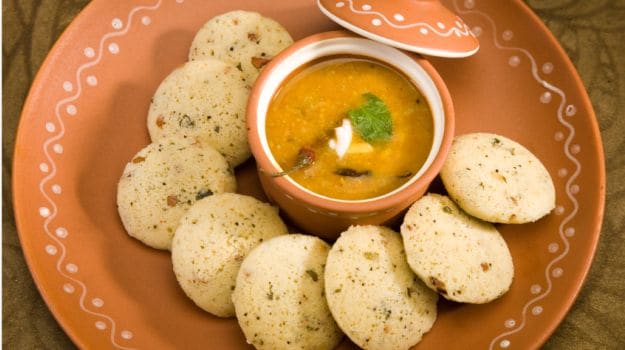 2. Moong Dal Cheela
Moong dal is considered to be one of the best sources of plant-based protein. This cheela is made with a smooth moong dal batter and topped with cottage cheese and vegetables. Serve with mint chutney to relish its taste. Click here for the recipe of Moong Dal Cheela.
3. Mixed Dal Dosa
If you want an interesting way to include protein in your breakfast diet, then this mixed dal dosa is a must-try! It is enriched with the goodness of five different lentils and is the perfect getaway from the regular dosa. Click here for the recipe of Mixed Dal Dosa.


Also read: Weight Loss: 5 Quick And Easy Dosa Recipes To Add To Your Diet
4. Sooji-Tomato Upma
Upma is one of the most popular south Indian dishes. This sooji-tomato upma is healthy, tangy and makes for a filling and sumptuous breakfast. It has a good amount of healthy carbs and is great for those who are trying to lose weight. Click here for the recipe of Sooji-Tomato Upma.
5. Anda Bhurji
Anda bhurji holds a special place in our hearts. This crumbly delicious egg dish is power-packed with nutrition and perfect for mornings when you are pressed for time. You can also cook the bhurji in ghee instead of oil for good fats. Click here for the recipe of Anda Bhurji.

Make these low-carb recipes for breakfast and share your experience with us in the comments below.
About Vaishali KapilaVaishali finds comfort in eating parathas and rajma chawal but is equally enthusiastic about exploring different cuisines. When she's not eating or baking, you can often find her curled up on the couch watching her favourite TV show - FRIENDS.