Story Progress
Back to home
Chorchori Recipe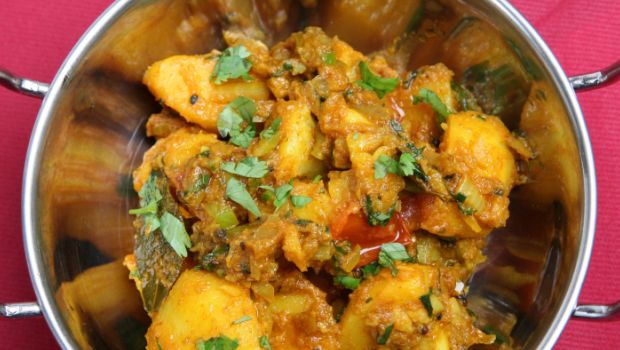 How to make Chorchori
About Chorchori Recipe: A vegetarian Bengali delicacy that goes well as a side dish with any meal. Chorchori is a combination of fresh vegetables with aromatic spices.

Ingredients of Chorchori
4 Tbsp Mustard oil
4-5 Garlic pods
2 tsp ginger, chopped
2 Green chillies
4 Bay leaves (tej patta)
1 tsp panch phoran
1 cup potatoes, chopped
4 Baby brinjals (halved or quartered)
1 cup cauliflower, chopped
1 cup pumpkin, chopped
A pinch of salt
A pinch of sugar
1/4 tsp turmeric
1/4 tsp dhania powder
1/4 tsp zeera powder
1 Green chilli (slit)
for garnishing Coriander leaves
1.
Heat the mustard all to remove its bitterness.
2.
While the mustard oil is burning out (this could take about 5-7 minutes), in a mortar and pestle add some garlic, ginger and 2 green chillies with a pinch of salt.
4.
Once done, get back to the mustard oil now.
5.
Add the tej patta, panch poran and the ginger-garlic paste you just made. Mix.
6.
(Panch poran consists of equal parts of mustard seeds, cumin seeds, fenugreek seeds, fennel seeds and onion seeds)
7.
First add the potatoes and let them fry on low heat.
8.
Once they looked half cooked, add the cauliflower.
9.
Now is also a good time to add salt. Mix well.
10.
Turn up the heat little bit and sprinkle little water on it.
11.
Cover and let it steam for about 3-4 minutes.
12.
Once the potatoes are almost cooked add turmeric, dhania powder and zeera powder.
13.
Now turn up the heat and add the pumpkin and brinjals.
14.
Add some salt again along with a slit green chilly.
15.
Toss it around. Add some water, cover it and let the vegetables cook for a while. (5minutes)
16.
Now check the pan for the vegetables. Mix and mash them a bit.
17.
Let it cook for another 4-5 minutes.
18.
Once vegetables are done, take the chorchori out into a bowl.
19.
Garnish with coriander leaves.