Story Progress
Back to home
Egg Curry Recipe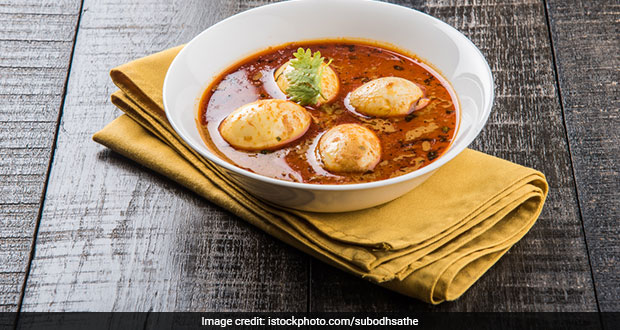 How to make Egg Curry
About Egg Curry Recipe | Anda Curry: A delicious egg recipe to savour at home during lunch or dinner parties. Eggs (Anda) are one of the most versatile foods that can be cooked in numerous ways for each course if meal. Apart from being simple and easy to cook, eggs have numerous health benefits too. This Indian delicacy is made of beautiful boiled eggs that are simmered and cooked in a flavourful gravy full of spices with a spluttering finish of urad dal tadka. The Anda curry recipe here will give you a simple, delicious and spicy dish to enjoy at home with family and friends.
Ingredients of Egg Curry (Anda Curry) Recipe: Each region has it's own style of making Egg curry. Some regions add potato, drumsticks, coconut milk, etc while some may not add potatoes. However onions, tomatoes and spices remain the same in each anda curry recipe. Spices like chillli powder and tadka of urad dal gives the dish a tangy kick.
Best Way to Enjoy Egg Curry | How to Serve Anda Curry: Egg curry can be paired with plain chapati, paratha, rice, biryani or pulao depending upon your choice. You can also serve pickle along with it.
Benefits of Egg Curry (Anda Curry) Recipe: The basic ingredient in our egg curry recipe here is the Egg, which itself has numerous health benefits. The first and foremost being the high quantity of protein. One whole egg contains 6 grams of high-quality protein and all the nine essential amino acids. Apart from the protein, eggs are one of the only foods that contain naturally occurring vitamin D. When combined with all the other spices and veggies like tomatoes, this recipe of egg curry turns out to be palate of healthy benefits.

Ingredients of Egg Curry
4 Eggs, boiled
2 tbsp Oil
12-14 Curry leaves
1 tsp Mustard seeds
2 Onions (diced)
1 Ginger (shredded), peeled
1/4 tsp Turmeric powder
1/2 tsp Chilli powder
1/2 kg Tomatoes (deseeded and chopped), peeled
1/2 tsp Sugar
2 tbsp Coriander, chopped
1 tbsp Oil
2 tbsp Urad dal
1.
Shell and halve the eggs and set aside.
3.
Toss in curry leaves and mustard seeds and allow them to crackle.
4.
Now add onions and ginger.
5.
Let the onions soften over gentle heat for five minutes.
6.
Add turmeric and chilli powder, stir well.
7.
Add tomatoes, sugar and salt and simmer for fifteen minutes.
8.
Finally add coriander and eggs.
For tadka:
1.
Add urad dal to one Tbsp of hot oil and fry until crisp.
2.
Finish off by spooning this over the curry.
3.
Serve hot with boiled rice.
Recipe Notes
If you don't wish to go all about the whole egg and prefer just the whites then you can try the best egg white recipes we have.
Love eggs way too much? We have our best egg recipes here for every day so you never run out of options.