Story Progress
Back to home
Eggless Chocolate Mousse Recipe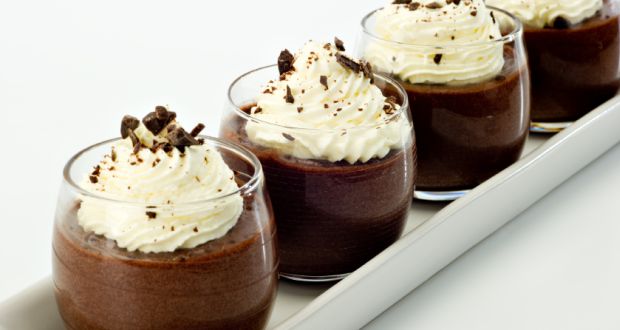 How to make Eggless Chocolate Mousse
Whip up a light and creamy chocolate mousse without eggs. This recipe very easy to make and soul soothing.
Total Cook Time

1 hr 15 mins

Ingredients of Eggless Chocolate Mousse
2 cups hot milk
1 cup sugar
100 gm plain milk chocolate
1 cup cream-chilled
1 Tbsp gelatine
1 tsp vanilla essence
1/2 cup water at room temperature
Grated chocolate for garnish
1.
Sprinkle the gelatine over the 1/2 cup water and let it soak.
2.
Put milk, 1/2 the sugar and chocolate into a small pan, which will fit into a bigger one with water.
3.
Put the larger pan with water on the stove and the smaller one into this. Heat mixture over low heat, stirring all the time, till warm and the sugar and chocolate have melted.
4.
When warm, add the soaked gelatine and continue stirring till it reaches a coating consistency.
5.
Remove from heat, mix in the vanilla, pour into serving bowls and leave to cool.
6.
Beat the cream and the remaindered sugar till it holds shape.
7.
When the chocolate mixture is set, cover with a thick layer of cream.
8.
Garnish with the chocolate, chill and serve.