Story Progress
Back to home
Eggless Pancakes Recipe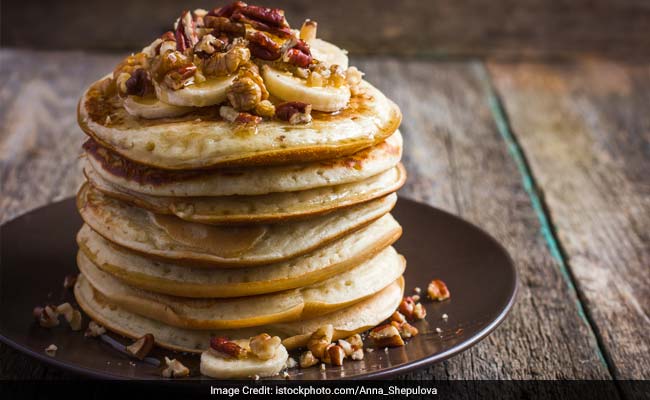 How to make Eggless Pancakes
About Eggless Pancakes Recipe: Sweet, fluffy and delicious pancakes that are eggless too! What do you need more? Serve these basic pancakes with a sweet or a savoury filling/sauce.

Ingredients of Eggless Pancakes
1 Cup Maida
1 tsp Sugar
1/2 Salt
2 tsp Baking powder
1 cup Milk
3 tbsp Oil
1 tsp Vanilla essence
To cook the pancakes Oil
1.
Mix flour, sugar, salt, baking powder, milk, oil, vanilla essence and enough water to form a smooth paste. The batter should be of a coating consistency. Add more water if required.
2.
Take a frying pan of about 6'-7' diameter and heat oil in it.
3.
When the oil gets hot, turn over the pan and drain the excess oil off it.
4.
Increase the heat again, and pour batter in the pan.
5.
Lower the heat and cover the pan for about 10 seconds. Uncover the pan.
6.
When edges of the pancake start lifting on its own, the pancake is done.
7.
Just loosen the edges and turn the pan upside down over a plate and serve.