Story Progress
Back to home
Fish Tikka Salad Recipe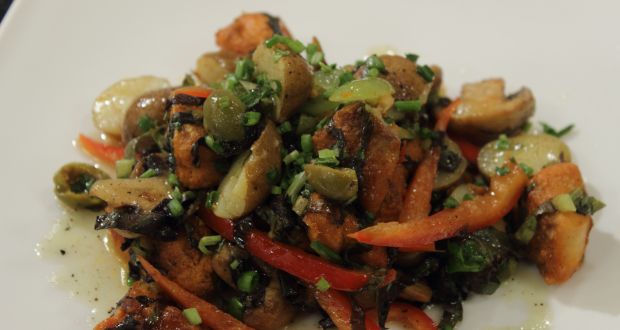 How to make Fish Tikka Salad
About Fish Tikka Salad Recipe: Spicy fish tikkas tossed with mushroom, baby potato, red pepper and lettuce to make a creative salad.

Ingredients of Fish Tikka Salad
Leftover fish tikkas
1 Red pepper
6 Baby potatoes (par boiled)
5 Mushrooms
Few bunch lolla rossa lettuce, medium
to taste salt & pepper
4 tsp butter
5-6 Grapes (halved)
7 Green olives
Spring onions
1 Lime
Honey (to drizzle)
7 tsp extra virgin olive oil
For the dressing:
1 Lime (juiced)
Salt and pepper
2 tsp honey
Extra virgin olive oil in 1:4 ratio of acidity to oil
1.
De-seed the red pepper and julienne it.
2.
Halve the mushrooms and the baby potatoes.
3.
Heat up a pan and add 2 tsp of olive oil.
4.
Put mushrooms in the pan and saute them. Season with salt amd pepper. Cook till mushrooms are slightly charred.
5.
Add 1 tsp of butter and transfer to a bowl.
6.
To sear the fish tikkas put them in a pan, add 3 tsp of butter and some drops of olive oil. Add salt to season. Saute until slightly crispy.
7.
Slice 5 -6 grapes in half.
8.
Transfer fish tikka to a bowl. Add salt & pepper to season. Add grapes, olives sliced in half and finely chopped spring onions.
9.
Finally add some chopped lettuce.
Prepare the dressing:
1.
Whisk the lime juice, salt, pepper, honey together and the dressing is ready
2.
Add 3-4 tsp of extra virgin olive oil to the salad
4.
Garnish with spring onions and serve.