Story Progress
Back to home
Ghutti hui Gobhi Recipe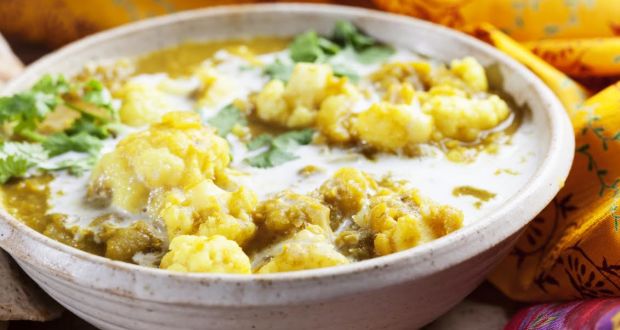 Mashed cauliflower/gobhi rolled in a bed of ingredients.

Ingredients of Ghutti hui Gobhi
500 gm cauliflower/ gobhi
2 Tbsp clarified butter
1 tsp cumin seeds
1/8 tsp asafoetida
1 Tbsp finely chopped ginger
2 tsp coriander powder
Salt to taste
1/2 tsp turmeric
1/4 cup yoghurt
1/4 tsp garam masala
2 green chillies-slit length wise
1.
Wash the gobhi and chop into very small pieces. The stalk, which is not very tough, should be peeled and chopped fine.
2.
In a heavy-based pan, heat the clarified butter and add the cumin seeds and asafoetida.
3.
When the seeds splutter, add the ginger and saute till light brown.
4.
Add the gobhi and saute over high heat till it looks glossy; then lower the heat and add the coriander powder, salt and turmeric.
5.
Cover and cook till the gobhi is soft.
6.
You might have to sprinkle some water to prevent the gobhi from scorching. Takes about 5 minutes.
7.
Add the yoghurt, mix well and saute it till the fat separates.
8.
Serve the gobhi hot, garnished with green chillies.