Story Progress
Back to home
Gujarati Kadhi Recipe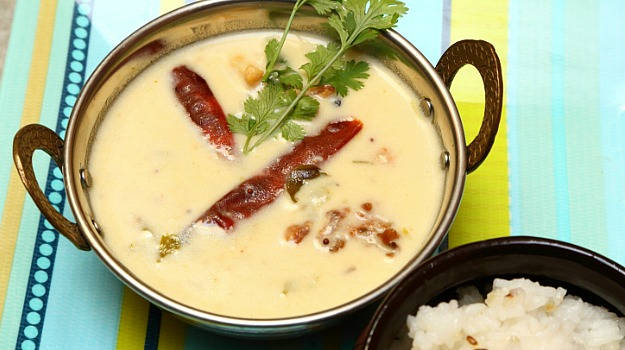 How to make Gujarati Kadhi
About Gujarati Kadhi Recipe: A yogurt and gram flour based recipe, Gujarati Kadhi never fails to impress. It is super tangy and delicious!

Ingredients of Gujarati Kadhi
2 Cups Sour yogurt
2 tbsp Gram flour
4 cups Water
1/4 tsp Asafoetida
1 tbsp Salt
1 tsp Chilli powder
1/4 tsp Cinnamon powder
2-3 tbsp Sugar
2 tbsp Oil
2 tsp Mustard seeds
8-10 Curry leaves
3-4 Whole red chillies
2 tbsp Coriander leaves
1.
Whisk the yoghurt till smooth, add gram flour to it, blending well till batter becomes smooth again.
2.
Add asafoetida, salt, chilli powder, cinnamon powder, sugar and water. Mix very well.
3.
In a heavy-based saucepan, heat oil, add mustard seeds, curry leaves and whole red chillies.
4.
When the seeds begin to splutter, add the yoghurt mixture, increase flame and bring to a boil.
5.
Lower flame and leave to simmer for about 15-20 minutes.
6.
Serve Gujarati Kadhi hot, garnished with coriander leaves.