Story Progress
Back to home
Hara Kebab Recipe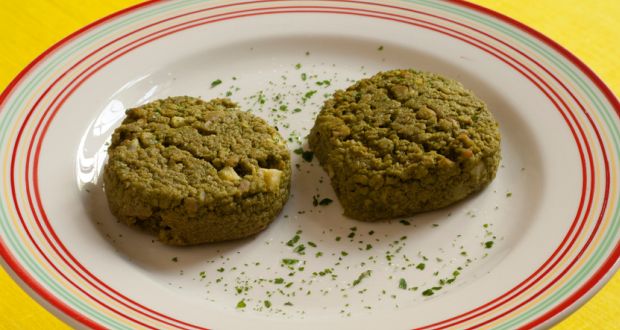 A vegetarian's delight! Kebabs made with fenugreek leaves, spinach puree and spices.

Ingredients of Hara Kebab
1/2 cup fenugreek leaves puree
1/2 cup spinach leaves puree
1/2 cup chickpea flour
1 1/2 tsp salt
1/2 tsp chilli powder
2 tsp ginger-chopped fine
2 tsp green chillies-chopped fine
2 Tbsp ghee-to pan fry
1.
1. Clean, wash and blanch the fenugreek and spinach.
2.
2. Leave in colander to drain. Squeeze out excess liquid and grind the greens to a paste.
3.
3. Mix in the chickpea flour, chilli powder, ginger, and green chillies.
4.
4. Leave to rest for 15 minutes.
5.
5. Shape the mixture into balls of desired size, and then flatten them a little.
6.
6. If not thick enough to shape, do not worry, you can drop spoonfuls directly into the pan.
7.
7. Heat a non-stick frying pan with a thin layer of ghee, place the kebabs in it over high heat.
8.
8. Turn and then continue cooking over medium heat till brown, first on one side then the other.
9.
9. Serve accompanied with green chutney.