Story Progress
Back to home
Hare Channe ki Sabzi Recipe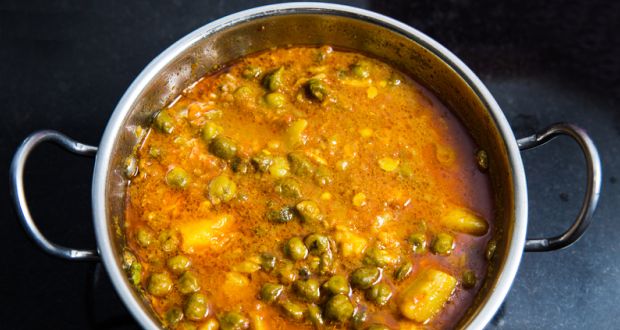 Green chickpeas lightly fried in ginger, cumin seeds and a host of light spices. Finished off with yoghurt for that rich texture, topped with coriander leaves.

Ingredients of Hare Channe ki Sabzi
250 gm hare channe
1/4 cup ghee
1/8 tsp asafoetida
1 tsp cumin seeds
1 Tbsp ginger- shredded
1/2 cup tomatoes- grated
1/2 tsp garam masala
2 tsp coriander powder
Salt to taste
1/2 tsp chilli powder
1/2 tsp turmeric
1/2 cup yoghurt
1 Tbsp chopped coriander leaves
2.
2. Add cumin seeds and asafoetida.
3.
3. When the cumin seeds begin to splutter, add ginger and saute.
4.
4. Add tomatoes and stir-fry, let the fat separate.
5.
5. Further add garam masala, coriander powder, salt, turmeric and chilli powder.
7.
7. Add channas and stir-fry over high heat.
8.
8. Now add about 2 cups water, and bring the mixture to a boil.
9.
9. Simmer uncovered for about 15 minutes.
11.
11. Serve hot, garnished with chopped coriander leaves.