Story Progress
Back to home
Kabab-E-Khaas Recipe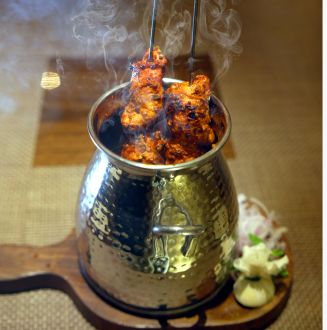 Get any party started with these special chicken kebabs teamed with refreshing mint chutney.
Total Cook Time

1 hr 15 mins

Ingredients of Kabab-E-Khaas
Chicken breast - 6 pieces, 200 gms
For stuffing
Bell peppers (red, yellow & green) - 25 gms
Fresh button mushrooms - sliced, 25 gms
Green chillies - chopped, 1 piece
Processed cheese - grated, 20 gms
Crushed cashewnut powder, 20 gms
Chicken (minced/ keema) 25 gms
Salt
For marination
Ginger & garlic - fine chopped, 1 tsp/5 gms
Green chillies - fine chopped, 1 tsp/3 gms
Ginger-garlic paste, 2 tsp/10 gms
Red chilli paste, 4 tsp/20 gms
Hung curd, 6 tsp/30 gms
Black salt
Salt
Lemon juice - 2 ml
Turmeric oil - 2 ml
Mustard oil - 2 ml
Coriander - chopped, 5 gms
Mint leaves - chopped, 5 gms
Garam masala, 2 gms
Kitchen king masala - 2 gms
Jeera powder - 2 gms
Processed cheese - grated, 5 gms
For garnish
Onion - juliennes, 50 gms
Fresh mint leaves sprig
Lime 1/2
1.
Turmeric oil: Heat 5 ml of cooking oil and add 2 gms of turmeric powder and filter the oil through a muslin cloth and keep aside.
3.
Shallow fry julienned bell peppers along with sliced button mushrooms and chop finely. Put the chopped mixture in a bowl
4.
Add to the bowl green chillies and crushed cashew nut powder.
5.
Add grated cheese and chicken mince and add salt to taste.
6.
Mix well with a spoon in the bowl. Divide the mixture into 6 equal portions.
8.
In a bowl add chopped green chillies, chopped ginger & garlic, ginger-garlic paste, red chilli paste.
9.
Add jeera powder, kitchen king powder, garam masala and grated cheese.
11.
The masala is ready, to this add hung curd, black salt, lemon juice, turmeric oil, mustard oil, chopped coriander and chopped mint and mix well.
12.
Assembling the chicken breast
13.
Take chicken breast and hammer it lightly, place the stuffing on the breast and roll the breast and put a toothpick stick to prevent the roll from opening.
14.
Rub the marination on top of the rolled chicken breast and pass the skewers again apply the left over marination over the top of the rolled chicken breast.
15.
Place the skewers on the barbeque grill or tandoor or in an oven at 260 degrees C. Apply butter for basting.
16.
Once cooked place the chicken roll on a platter garnish with onion juliennes and lime wedges on the side.