Story Progress
Back to home
Kesari Jalebi Recipe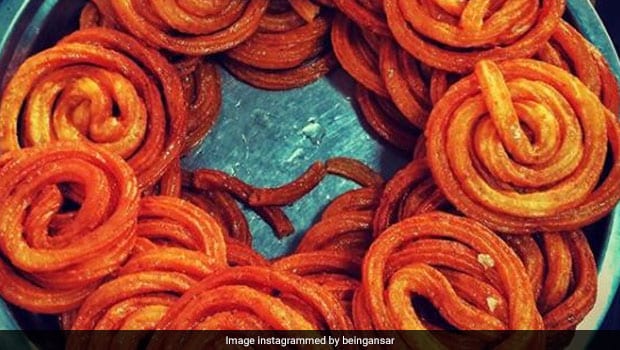 How To Make Kesari Jalebi
About Kesari Jalebi Recipe: Jalebi is a melt-in-the-mouth Indian dessert that can best be categorized as funnel cakes. A street food sweet, jalebi is found across India and even Iran. It can be served both cold or warm in a circular shape, similar to pretzels. Create culinary magic in your kitchen with this delicacy on festivals like Janmashtami and Diwali.
Ingredients of Kesari Jalebi Recipe
: Just a handful of simple ingredients will help you make out these mouth-watering crispy jalebis in no time. Fermented batter of yogurt and flour, deep fried into the desired shape of jalebis and bathed in the saffron-sugar syrup. This Indian dessert is as simple to make as simple it is to eat tonnes of it, all of this in no time.
Total Cook Time

1 hr 15 mins

Ingredients of Kesari Jalebi
1/2 Cup maida (refined flour)
1/4 cup dahi (yogurt, preferably sour)
Oil/ghee (for frying)
A square piece of cloth with a hole in it, or a strong plastic bag for piping out the 'jalebis'
1 cup sugar
1 cup water
1/2 tsp kesar
1.
Mix the flour and dahi to form a thick smooth paste (dropping consistency), adding water if necessary and leave to ferment for 6-7 hours (time depending on the weather).
2.
When the batter is ready, it should be spongy and you should be able to see bubbles on the surface.
3.
Make the sugar syrup by dissolving sugar and saffron in the water over low heat, then cook over high heat till slightly thick.
4.
When this mixture is lifted with a spoon and poured back into the pan, it should fall in a thin smooth stream, or when a drop of it is cooled a little, press it between your thumb and forefinger and then pull the fingers apart, it should be thread-like. Keep warm, till you fry the 'jalebis'.
5.
Take a shallow, heavy pan and heat the ghee/oil. To test if your oil is ready, drop in little bit of batter in the oil, and see if it comes up at once. If it does, your oil is ready for frying.
6.
Fill the bag with the batter. Twist the opening to seal the bag. Snip one lower corner of the bag to make a small hole, through which you can pipe out the `jalebis'. The smaller the hole, the thinner the jalebis.
7.
Hold the bag over the hot oil and pipe out swirls (like whirlpools), of the desired size, straight into it. Make as many such rounds as come in comfortably without touching each other.
8.
Lower the heat to medium and turn the 'jalebis' over and fry till a light brown on both sides.
9.
Lift out the fried jalebis, drain out the oil and put them into the syrup. Leave it for a minute or so, and then again lift it out.
Nutritional Value