Story Progress
Back to home
Lamb and Dal Dalcha Recipe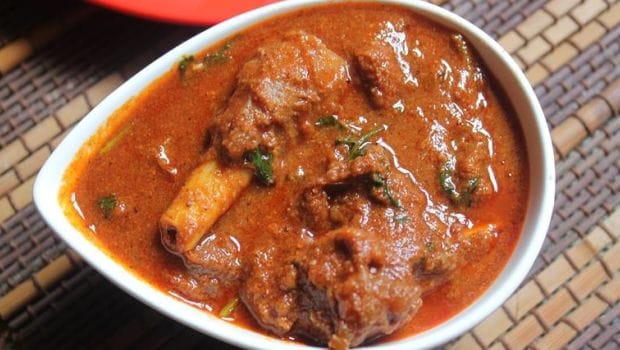 How to make Lamb and Dal Dalcha
About Lamb and Dal Dalcha Recipe Dalcha is a slow cooked lamb stew with lentils and mild spices. This one is cooked with chana dal and perfectly balanced spices that would leave you asking for more. Serve for lunch or at a dinner party along with some cooked rice.
Total Cook Time

1 hr 20 mins

Ingredients of Lamb and Dal Dalcha
3-4 Pieces leg of lamb
200 gms chana dal
1 onion, sliced
1 tbsp desi ghee
1 large black cardamom (split open)
10-12 black pepper
3-4 cloves
A small piece of cinnamon
2 Bay leaves (crushed)
5 Green cardamom pods (crushed)
For the yogurt:
250 gms yogurt
A pinch of salt
A pinch of turmeric
1 tsp ginger paste
2 tsp garlic paste
1/2 tsp red chilli powder
For the dal:
400 ml water
A pinch of salt and turmeric
For the tempering:
1 tbsp ghee
2 tsp garlic (heaped), chopped
3 Red chillies
12-15 Curry leaves
1.
Soak the chana dal in some water. (for about 15 minutes)
For the lamb:
1.
In the meanwhile chop the lamb meat into small square pieces.
2.
In a pan heat some desi ghee.
3.
Add to that black cardamom, black pepper, cloves, cinnamon, bay leaves and green cardamom.
4.
Once these whole spices change color and start to splutter, add the onions.
5.
Saute till the onions turn nice, golden dark brown.
6.
In another bowl whisk up the yogurt with salt, turmeric, ginger paste, garlic paste and red chilly powder.
7.
Add this to the onions and whole spices. Mix well.
8.
Roast the masala for a minute and then add the lamb.
9.
Add some water to the meat, cover it with foil and let it cook on low heat.
10.
In meanwhile cook the dal in another pan.
For the dal:
2.
Drain all the water from the dal. (make sure it is soaked enough and is nice and soft.)
3.
Add some turmeric and salt and roast for a minute.
4.
Now add some water and let it cook. (about 15 minutes)
5.
Now when the dal is ready let it cool down and then puree it into a nice fine paste.
6.
Pour the dal out out in a pan.
7.
When the lamb meat is perfectly cooked, strain out the lamb cubes and add it to the dal.
8.
Now strain the lamb gravy into the dal.
9.
Now place this pan with dal and lamb over heat, cover it and let it cook till the gravy thickens.
For the tempering:
1.
In a pan heat ghee and add the curry leaves.
2.
Add the garlic and saute.
3.
Throw in the chillies. Once the garlic turns brown add the curry leaves.
4.
Add half the tempering into the dalcha and mix.
5.
Pour the other half of it over the dish and serve.