Story Progress
Back to home
Lao Chicken Noodle Soup Recipe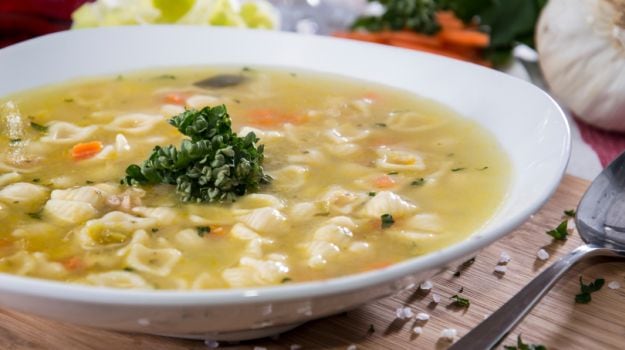 How to make Lao Chicken Noodle Soup
When it comes to noodle soups, Asia is the best. Lao is the cuisine of Laos, a South-Asian country. Lao meals typically consist of a soup dish which is sipped throughout the meal.

Ingredients of Lao Chicken Noodle Soup
For chicken stock:
A pinch of:
Star anise
Cinnamon
Soy
Fish sauce
White pepper
Sugar
For the soup:
1 packet Rice noodles (you can use any)
1/2 cup Bean sprouts
5-6 Spinach leaves
100 gms Chicken (slivered), chopped
9-10 Garlic cloves, chopped
3 cups Chicken stock
For chicken stock:
1.
Mix all ingredients with the chicken bones and water. Let it simmer for about half an hour.
2.
While this simmers you can go ahead with the preparation of the soup.
For the soup:
1.
First boil the noodles (about a fist and a half of noodles) in some salty water.
2.
Add a dab of oil to it so that they don't stick togethar.
3.
Once the noodles are done, drain then out and blanch the leafy greens in the same water.
4.
Blanch the bean sprouts for about eight seconds.
5.
Once done, blanch the spinach leaves.
6.
Now blanch the chicken. This would take about five to seven minutes.
7.
Keep adding all of this in a bowl. Add a few mint leaves to this bowl.
8.
Now strain the chicken stock over this mix of noodles, chicken and greens.
9.
In a pan take some chopped garlic and golden fry it in some oil. Add the fried garlic to the soup.