Story Progress
Back to home
Maaun Ke Machchey Recipe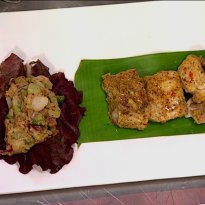 Infused with flavours, fish is wrapped in a banana leaf and served with freshly made potato pickle.
Total Cook Time

1 hr 20 seconds

Ingredients of Maaun Ke Machchey
1/2 kg fillet or 1 whole Calcutta bekti fish
2 nos. lemon juice
Salt to taste
2 tbsp mustard paste
1/2 cup fresh coriander
1 tsp fresh red chilli
2 tbsp fresh ginger, chopped
1 tbsp garlic, chopped
500g potatoes (pahari aloo)
250g baby cucumber, seedless
200g red onion
1/2 cup fresh coriander
2 tbsp white sesame seeds
1 tsp timur seed (sichuan pepper or meswak in hindi)
1 tsp turmeric powder
1 tsp red chilli powder
1/4 cup mustard oil
1/2 tsp fenugreek seeds
1/4 tsp onion seed
3 green chilli, slit
2 fresh banana leaves
1 trussing thread
To Garnish (Optional)
3 bunches assorted lettuce
3 pcs pepper (red, yellow, green - 1 each)
1.
Clean and fillet the fish. Cut in 2 inch cubes.
2.
Marinate the fish in a chutney made out of lemon juice, salt, mustard paste, fresh coriander,
3.
fresh red chilli, and ginger and garlic. Leave aside for half an hour.
For Potato Pickle:
1.
Boil potatoes. Cool them down and cut into small dices.
2.
Cut cucumber in strips and sprinkle salt. Leave aside for 20 minutes.
3.
Brown sesame seeds on a skillet (tawa). Cool and grind to a paste.
4.
Roast timur seeds and powder them.
5.
Mix and lightly toss together potatoes, cucumber, lemon juice, sesame powder, Sichuan
6.
powder, turmeric powder and red chilli powder. Keep aside.
7.
For the pickle, prepare a tempering of mustard oil. Add methi seeds, kalonji and then slit
8.
green chilli. Let the chilli brown slightly and temper the potatoes with this baghar (masala).
9.
Mix well. Adjust seasoning. Potato pickle is ready.
10.
Wrap the fish in banana leaf, tie it together with trussing thread and cook over a hot plate or hot ash for approximately 8 minutes on each side.
11.
Serve the fish with potato pickle. Garnish with lettuce and peppers if you like.