Story Progress
Back to home
Meen Vazhakkai Chops Recipe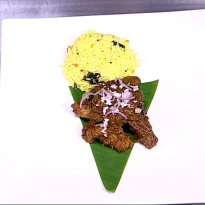 How to make Meen Vazhakkai Chops
About Meen Vazhakkai Chops Recipe: Crispy banana and fish, tossed in spicy masala, served with shallots, curry leaves and coconut. A delicious dinner party recipe that you can cook easily at home. Filled with the goodness of fish and coconuts, cooked in a myriad of spices along with the tang of lemon, served beautifully on a banana leaf.
Total Cook Time

1 hr 15 mins

Ingredients of Meen Vazhakkai Chops
900 Gram Basa fish fillet
To taste Salt
1 Tbsp Turmeric powder
2 Tbsp Deggi mirch powder
3 tsp Cumin powder
4 Lemons
2 Tbsp Ginger garlic paste
4 Raw bananas
2 Tbsp Whole garam masala (cinnamon, cardamom, star anise, peppercorn, cloves)
1 1/2 Tbsp Fennel seeds (saunf)
2 Tbsp Curry leaves
2 1/2 Tbsp Cashew nuts
2 Tbsp Mustard seeds
1 Tbsp Black pepper powder
2 Tbsp Green chilli, chopped
1/2 Cup Green coriander
3/4 Cup Coconut, grated
1/2 Cup Coconut oil
Bhunna masala
3/4 Cornflour
1/2 Cup Rice flour
150 Gram Madras shallots
4 Banana leaves
1.
Clean and cut the fish into long strips.
2.
Marinate the fish with salt, turmeric powder, deggi mirch powder, cumin powder, some lemon juice and ginger garlic paste.
3.
Blanch the raw bananas for 6-8 minutes, cut into strips similar to the fish.
4.
Prepare the spice paste by roasting the whole garam masala, fennel seeds, curry leaves, cashewnuts, mustard seeds, black pepper powder, green chilli, coriander leaves and fresh coconut in the oil.
5.
Puree the spice paste and cook gently with the bhunna masala in coconut oil for 15 minutes.
6.
Dust the fish and the banana with corn flour and rice flour to gently coat.
7.
Fry the fish and the banana to golden colour and keep warm.
8.
Check the seasoning for the spice paste and add the fried banana and fish, gently toss.
9.
Fry the shallots and curry leaves in oil and reserve for garnish.
10.
Place the fish on banana leaf, garnish with the shallots and curry leaves, fresh coconut and lemon wedge.