Story Progress
Back to home
Mixed Vegetable Tehari Recipe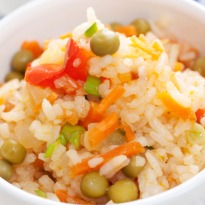 This recipe was sent in by one of our viewers of Aditya Bal's Chakhle India. She shares with us the traditional tehari recipe from Uttar Pradesh.

Ingredients of Mixed Vegetable Tehari
2 cup basmati rice, soaked
1 cup green peas
8-10 florets cauliflower (cut into big pieces)
1/2 cup carrot (cut into medium pieces)
1/2 cup potato (cut in medium pieces)
1 cup fine chopped onion
1 Tbsp fine chopped green chilly
2 Tbsp fine chopped ginger garlic
3/4 cup chopped tomato
1/2 cup chopped coriander
1 tsp cumin seeds
2 tsp coriander powder
1 1/2 tsp turmeric powder
1 tsp chilly powder
1/2 tsp cumin powder
2-3 bay leaves
2-3 whole red chilly
2 Tbsp ghee
5-6 Tbsp mustard oil
6 cups water
Salt to taste
1.
Heat the pan with 1 tbsp oil, add cauliflower, stir in high flame for 3 to 4 minutes, till it gets brown from sides. Take it out and keep aside.
2.
Heat the rest oil in the pan, add cumin seeds, whole red chilly, bay leaves. Let them crackle and then the add onions. Stir for 3 to 4 minutes, then add ginger garlic.
3.
After 2-3 minutes add green chilly, green peas, potato, carrot and cook for 3-4 minutes.
4.
Add all powered spices and stir well.
5.
Add tomato, salt and cover with the lid for 3-4 minutes on a low flame.
6.
Open lid, mash tomato well and add water. Let it come to boil on a high flame.
7.
As it boils, add rice and cauliflower and stir.
8.
Now cover the lid, bring back to low flame and let it cook for about 12 to 15 minutes.
9.
Check in between the consistency of tehari it should not be like pulao, it is more wet than pulao. It has greavy texture.
10.
At last add a lot of green coriander and serve hot with pouring ghee.