Story Progress
Back to home
Murgh-E-Kalmi Recipe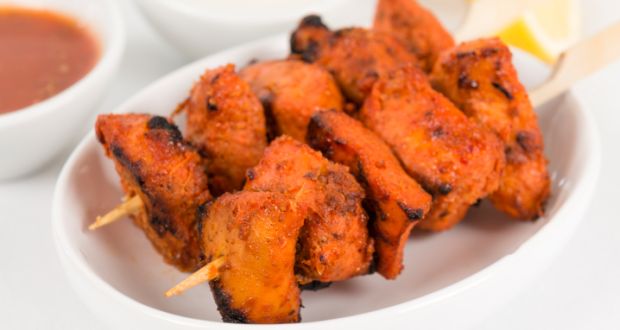 Chicken marinated in yoghurt and spices - grill it, bake it or use a tandoor.

Ingredients of Murgh-E-Kalmi
1 kg chicken-skinned and cut into 8-10 pieces
1 tsp ginger paste
1 tsp garlic paste
Salt to taste
1 cup yogurt, placed in a colander to drain out excess water
2 cloves
1/2 tsp cinnamon, broken, roasted and powdered
1/2 tsp black cumin seeds-roasted and powdered
A large pinch of kesar (safron)
2 Tbsp lemon juice
1/4 cup refined flour
1 egg - slightly beaten
1 large onion-sliced into rings
1 Tbsp chopped - mint leaves
1 lemon cut into wedges
1.
Wash the chicken and wipe dry. Prick in 2-3 places.
2.
Mix all the ingredients, except those for garnishing.
3.
Marinate the chicken for 2-3 hours in the mixture.
4.
Before serving, place the marinated chicken on a drip-tray and grill till light brown, or bake in a hot oven for 15-20 minutes.
5.
It is best cooked in a tandoor. A drip-tray is essential, because the drippings need to escape. Chicken cooked in drippings becomes soggy.
6.
Serve hot, garnished with onion rings, chopped mint leaves and lemon wedges.