Story Progress
Back to home
Murgh Mussallam Recipe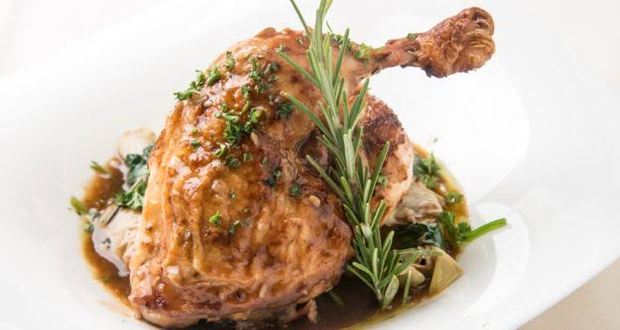 Stuffed chicken recipe combining an array of flavors.

Ingredients of Murgh Mussallam
1 kg chicken
1/4 cup raw papaya-ground with a tsp of salt
1/4 cup ghee
1 large onion-grated
Grind together
5-6 whole red chillies
1 tsp poppy seeds-roasted
1 tsp cumin seeds
salt to taste
1 large onion
1 Tbsp chopped ginger
1 Tbsp chopped garlic
1/4 cup thick strained yoghurt
2 tsp garam masala
2 Tbsp desiccated coconut
a large pinch of saffron
1/2 tsp vetiver
2 Tbsp warm milk
1 Tbsp warm milk
1 Tbsp blanched and shredded almonds
2 hard boiled eggs cut into halves-length wise
2 Tbsp chopped coriander leaves
1.
Dissolve together the saffron, vetiver and the milk.
2.
Clean the inside of the chicken and remove innards.
3.
Smear the chicken with the papaya paste, outside and inside.
4.
Leave on for 5 minutes, wash off and wipe dry.
5.
Heat the ghee in a heavy based pan and stir-fry the chicken over high heat till brown.
6.
Remove the chicken and fry the onions in the same ghee till brown and crisp.
7.
Meanwhile, apply the ground ingredients to the chicken both inside and outside.
8.
When the onions are a dark brown, increase heat and add the chicken.
9.
Fry, turning on all sides, so that the whole chicken is fried; lower heat and cook, turning every 5-7 minutes, till the chicken turns tender.
10.
Add the garam masala, coconut and saffron mixture, and simmer till the fat separates.
11.
Transfer onto a serving dish and cover with the masala in the pan.
12.
Arrange the boiled eggs around it, garnish with the coriander leaves and almonds and serve.