Story Progress
Back to home
Nahm Jim Steamed Fish Recipe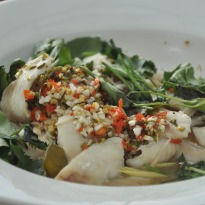 Industrial engineer turned gourmet food restaurateur, Varun Tuli brings alive an authentic oriental savory- a classic Nahm Jim Sauce with Steamed Fish. 'Nahm Jim' is Thai for 'dipping sauce'.

Ingredients of Nahm Jim Steamed Fish
For marination:
1/2 kg fish fillet cleaned & sliced
1 Tbsp fish sauce
2 Tbsp chopped galangal
5-6 kaffir lime leaves
2 Tbsp chopped lemongrass
For Nahm Jim sauce:
60 ml lemon juice
30 ml fish sauce
2 Tbsp sugar
1 Tbsp mince garlic
2 Tbsp coriander leaves and root
1 Tbsp red chillies
1/2 Tbsp kaffir lime
35-40 ml water
For chilly oil dressing:
1 Tbsp fresh red chillies finely chopped
2 Tbsp oil
For the Nahm Jim sauce:
1.
In a bowl add the lemon juice, fish sauce, sugar. Mix well to dissolve the sugar.
2.
Now add the garlic, chillies, coriander ( do not gorget to add the coriander roots and they have a lot of flavor in them).
3.
Add the kaffir leaves and water. Mix well.
For the fish:
1.
Marinate fish fillet with fish sauce, chopped galangal, chopped lemon grass, kafir lime leaves for about 15-20 minutes)
2.
Put them in a steamer till cooked.
3.
Heat the Nahm Jim dressing with a bit of water till a slight boil (we do not have to reduce the sauce).
4.
Pour over fish. Garnish with basil, kafir lime leaves or coriander leaves.
For the Chilli Oil Dressing:
1.
Heat oil, add red chillies and pour over the fish and serve.
2.
Tip: The Nahm Jim sauce can also be used as a dressing for a nice cold salad.