Story Progress
Back to home
Oatmeal Biscuits Recipe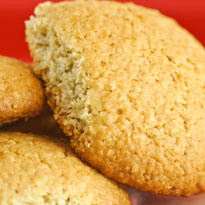 How to make Oatmeal Biscuits
Oats rolled in honey and coconut and baked crisp.

Ingredients of Oatmeal Biscuits
50 gm honey
125 gm butter
100 gm castor sugar
75 gm rolled oats
50 gm desiccated coconut
100 gm flour
2 tsp bicarbonate of soda
1.
In a saucepan melt the butter with honey and sugar.
2.
Add the flour, oats, coconut and bicarbonate of soda. Mix well.
3.
Form small balls with your hands about 1/2 " diameter.
4.
Place on lightly greased baking sheets, leaving enough room for spreading whilst baking the biscuits.
5.
Bake in a preheated oven at 170 C / 325 F, for about 10 minutes or until golden in colour.
6.
Remove from the oven, cool slightly before taking off from the baking tray.