Story Progress
Back to home
Pan Fried Chicken Recipe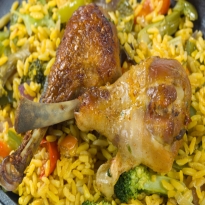 Chicken marinated in stock and spices, then fried and served with fenugreek chutney

Ingredients of Pan Fried Chicken
1 chicken - skinned and jointed
1 tbsp onion paste
1 tbsp garlic paste
1/2 tsp turmeric powder
salt
freshly ground pepper
150 ml chicken stock
50 ml oil
1 diced onion
4 cloves
4 green cardamoms
1
Fenugreek chutney
1 tbsp fenugreek seeds - soaked overnight and drained
1
2 tbsp garlic cloves
5-6 green chillies
3 tbsp coriander leaves
juice 2 limes
1 tsp sugar
salt
1.
Combine onion paste, garlic paste, turmeric, seasoning and stock. Use to coat chicken. Set aside for 1 hour.
2.
Heat oil in a large pan. Arrange chicken in a single layer over diced onion and spices.
3.
Cover pan and simmer the chicken until tender.
4.
Remove the lid and continue cooking until browned on both sides.
5.
Serve with roast potatoes and chutney.
6.
For Fenugreek chutney, grind fenugreek seeds, ginger, garlic, chillies and coriander together. Season well.
7.
Pour in lemon juice and sugar. Mix well and serve with the chicken.