Story Progress
Back to home
Paneer and Orange Cake Recipe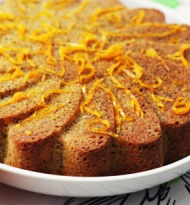 An innovative orange cake recipe with the goodness of paneer. Bake away a citrus-y treat.

Ingredients of Paneer and Orange Cake
200 gm paneer (2 cups approx)
180 gm (1 1/2 cups) maida/ refined flour
3/4 cup fresh orange juice
2 Tbsp lemon juice
2 tsp baking powder
1/2 tsp vanilla
1 cup (240 gm) sugar
1/2 tsp salt
2 tsp orange rind
3 eggs
Marmalade to top the cake
A 9
1.
Preheat the oven to 180 degrees C.
2.
In a bowl, mix together - paneer, maida, orange juice, baking powder, vanilla, sugar and orange rind. Beat till smooth and glossy.
3.
Add the eggs and beat again.
4.
When smooth, transfer the mixture into a greased tin. Level it from the center and bake in a pre-heated oven for 10 minutes at 180 C. Then lower the temperature to 160 C and bake for another 25-30 minutes.
5.
When cool, remove from the tin and transfer on to a serving dish. Spread a layer of marmalade over and serve.