Story Progress
Back to home
Pate Maison Recipe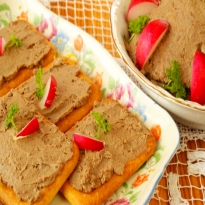 Pate is a mixture of ground meat and fat made into a paste. Velvety paste of chicken livers, onion and herbs served with crisp Melba toast.

Ingredients of Pate Maison
250 gm chicken liver
1 chopped onion
1/2 tsp garlic paste
1 bay leaf
100 gm butter
Salt and pepper to taste
1 Tbsp chopped garden herbs
1.
Soften onion and garlic in 25 gm butter for 5 minutes.
2.
Add bay leaf and chicken liver into the pan and saute for 5 minutes.
3.
Remove the bay leaf and puree the liver.
4.
Sieve through a wire strainer.
5.
Add the remaining butter and herbs.
6.
Serve hot with melba toast.
For the melba toast:
1.
Roll out the bread slices with a rolling pin until flat.
2.
Cut into two halves and bake in a slow oven until crisp.