Story Progress
Back to home
Peas and Potato Soup with Salsa Recipe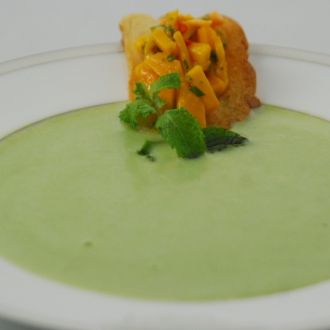 The peas give a texture to the soup while the wholesomeness of potato binds the whole dish together. A soup perfect for when you come back home from a tiresome day at work.

Ingredients of Peas and Potato Soup with Salsa
1 cup frozen green peas
2 medium potatoes
1 tbsp oil
½ medium onion
1 bay leaf
Salt to taste
½ cup milk
Melba toast as required
Fresh mint sprig for garnishing
For the Mango salsa
½ ripe mango, peeled
4-5 fresh mint leaves
1 fresh red chilli
1 tsp brown sugar
Salt to taste
2 Tbsp lemon juice
1.
1. Heat oil in a non-stick pan. Slice onion and add to the pan and sauté till translucent.
2.
2. Add green peas, bay leaf and mix well.
3.
3. Cut potatoes in small cubes and add to the pan. Add salt and toss well.
4.
4. Add 1 cup water and cook till potatoes are done.
5.
5. Discard bay leaf from the potato mixture and switch off the heat, strain, cool and grind the solids with milk to a smooth puree.
6.
6. Heat this puree in another deep non-stick pan.Add the strained stock and mix well and let the soup come to a boil.
7.
7. Finely chop mint leaves and mango and put into a bowl. Add red chilli, brown sugar, salt and lemon juice and mix well.
8.
8. Spread the mango salsa on melba toast.
9.
9. Transfer into a soup bowl, garnish with salsa topped melba toast and mint sprig and serve hot.