Story Progress
Back to home
Pineapple Chutney Recipe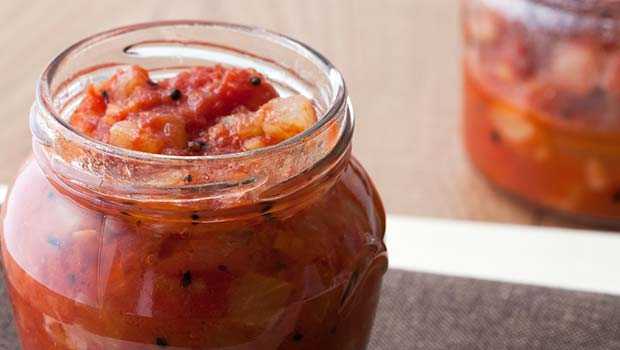 How to make Pineapple Chutney
Sweet and spicy relish of pineapple, vinegar and cinnamon.
Total Cook Time

1 hr 05 mins

Ingredients of Pineapple Chutney
1/2 Cup Vinegar
1/2 Cup Sugar
150 Gram Pineapple (finely diced)
1 tsp Ginger
1/2 tsp Garlic (optional)
Juice of half lime
2 Kafir lime leaves
1 stalk Lemon grass
1 Cinnamon stick
1 Star anise
2-3 Peppercorns
1 tsp Coriander (to garnish), chopped
2 tsp Spring onions (to garnish), chopped
1.
In a pan mix together vinegar and sugar. Let it reduce.
2.
Add lemongrass, star anise, cinnamon, kafir lime leaves, lime juice, peppercorns, garlic, ginger and mix well.
3.
Once the mixture starts to thicken add the pineapple pieces. Cook for 1 more minute.
4.
Finish with the chopped spring onions and chopped coriander.
5.
Serve with Thai fish cakes.