Story Progress
Back to home
Polenta Chilli Fries Recipe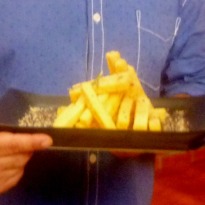 How to make Polenta Chilli Fries
Polenta is coarsely or finely ground yellow or white maize (cornmeal). Chunky fries made with cornmeal dipped in a parmesan, pepper and chilli flakes batter and fried crisp.

Ingredients of Polenta Chilli Fries
1 cup of corn meal/polenta/corn dahlia
3 cups of vegetable stock
Salt and pepper to taste
1/2 tsp of rosemary leaves, chopped
1 Tbsp of olive oil, for frying
1 cup of flour
Dusting:
30-35 gm of parmesan cheese, grated
1/2 tsp of cracked black pepper
1/2 tsp of red chilli flakes
1/2 tsp of sea salt
1.
Bring 3 cups of vegetable stock to a steady boil. Season with salt.
2.
Gradually add the polenta to the stock, whisking it at the same time with one hand.
3.
Turn down the heat and whisk well until the polenta is well incorporated. Let it cook for 8 to 9 minutes until it starts to leave the sides of the pan.
4.
Line a shallow tray (1 inch high) with plastic wrap or cling film. Grease it uniformly with olive oil.
5.
Pour the polenta into the tray and spread it evenly all over. The polenta will eventually set in the tray and will be nice and firm when chilled.
6.
Turn the tray over on to a clean surface.
7.
Take the tray away and carefully pull away the cling film from the polenta.
8.
Using a sharp knife cut it into longish fingers (10cm or 4inches x 1.5cms or 0.75 inch) to resemble French fries.
9.
In a bowl, combine the grated parmesan cheese, cracked black pepper and red chilli flakes.
10.
Dust the polenta fingers in flour and deep fry until crispy.
11.
Toss them into the bowl with the grated cheese and pepper to give a lovely coating to the polenta fries.