Story Progress
Back to home
Posto Chicken Recipe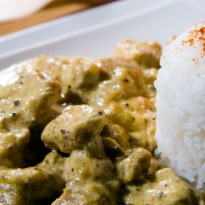 How to make Posto Chicken
Tender chicken curry in a thick gravy of poppy seeds and grated coconut.

Ingredients of Posto Chicken
500 gm chicken pieces
4 medium sized onions - chopped
4 green chillies
2 Tbsp grated coconut
2 Tbsp poppy seeds (posto)
1/2 inch cinnamon stick
2 cardamoms
2 cloves
5 cloves of garlic
1/2 inch ginger
2 Tbsp chopped coriander leaves
Salt to taste
4 Tbsp oil
1 tsp chilli powder
1/2 tsp coriander powder
1/2 tsp cumin powder
1.
Make fine paste of poppy seeds, green chillies, grated coconut, cinnamon stick, cardamom, cloves, ginger and garlic.
2.
Heat kadai and put oil to heat.
3.
Now add onions, fry until they turned into golden brown.
4.
Add cleaned chicken, chilli powder, turmeric powder, coriander powder, cumin powder and salt.
5.
Fry for 8 to 10 minutes on high flame or until the chicken pieces change its colour.
6.
Add the posto paste prepared in step 1 to this and fry for another 5 to 8 minutes.
7.
Add water depending on how much gravy is desired and wait until the chicken is soft and tender.
8.
Posto chicken is now ready to be served, add coriander leaves on top before serving.