Story Progress
Back to home
Ragi Pancakes with Sausage Filling and Yoghurt Dip Recipe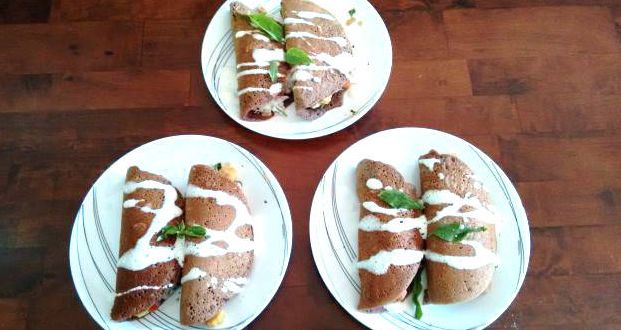 A delicious pancake made with ragi flour, and stuffed with a delicately spiced filling of sausages, baby corns, button mushrooms and red bell peppers. It is topped with a fresh yoghurt dip spiked with garlic and black pepper. The perfect start to the morning!

Ingredients of Ragi Pancakes with Sausage Filling and Yoghurt Dip
For the Filling
1/4 cup onions, chopped
2 Tbsp oil
4 sausages, chopped into roundels
1/2 cup baby corns, chopped into roundels
1/2 cup beans, chopped
1/2 cup button mushrooms, sliced
1/2 cup red bell peppers, chopped
1 Tbsp oregano
Salt and black pepper to taste
A handful of fresh basil, chopped
For the pancakes
1 cup milk
1 egg
3 Tbsp melted butter
1 cup ragi flour
2 tsp baking powder
1/2 tsp salt
For the Yogurt Dip
1 cup hung yogurt
3-4 garlic cloves
A pinch of salt
Crushed black pepper to taste
How to Make Ragi Pancakes with Sausage Filling and Yoghurt Dip
Hide

Show

Media
For the Filling
1.
Heat oil in a large pan. Add the onions and saute for 2 minutes on a low flame.
2.
Add the sausages and baby corns and let it cook for 3-4 minutes or until slightly browned.
3.
Add the beans and cook for 2-3 minutes.
4.
Add the mushrooms, and turn up the heat. Saute for 2 minutes until the water from the mushrooms dry up.
5.
Tip in the red bell peppers, oregano, chopped basil and seasonings and saute for a minute before turning off the heat. Keep aside.
For the pancakes
1.
In a mixing bowl, whisk the egg until light and fluffy. Pour in the milk and melted butter and continue whisking for about 2 minutes. Do not over mix.
2.
Heat a large non-stick pan and wipe the surface with a kitchen towel dipped in a little oil. Reduce the flame to low.
3.
Take a spoonful of the batter and pour it onto the center of the pan. Using the back of the spoon, spread out the batter in a circular motion to shape the pancake. Do not spread it out too thin.
4.
Let it cook for 1-2 minutes or until you see some bubbles on the surface. Using a thin spatula, carefully flip the pancake and cook the other side for 1-2 minutes. Transfer to a dish and keep warm.
For the Yogurt Dip
1.
Place the hung yogurt in a grinder, add in the garlic cloves, salt and crushed black pepper, and blend for 30 seconds until creamy and well combined.
To Assemble
1.
Place a pancake on a serving plate and top up the center with the sausage filling. Drizzle some yogurt dip and fold the pancake. Drizzle some more yogurt on top, garnish with a few fresh basil sprigs and serve immediately.