Story Progress
Back to home
Ratatouille Moulds with Saffron Sauce Recipe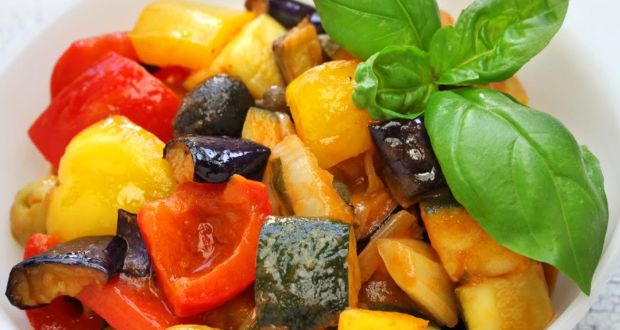 How to make Ratatouille Moulds with Saffron Sauce
Aubergine, courgette and capsicum moulds served with enticing saffron flavored sauce.

Ingredients of Ratatouille Moulds with Saffron Sauce
250 Gram Aubergine (diced)
To taste Salt
2 Tbsp Oil
1 Large Onion (diced)
1 tsp Garlic paste
350 Gram Courgettes (sliced), sliced
1 Green capsicum (diced)
2 Tomatoes (peeled and deseeded), chopped
3 Tbsp Thick tomato paste
To taste Pepper
2 Tbsp Herbs, chopped
For Saffron sauce:
1/2 Tbsp Butter
1/2 Tbsp Flour
200 Ml Vegetable stock
1/2 tsp Saffron strands (Soaked in 1 Tbsp water)
1.
Sprinkle aubergine with salt. Set aside and rinse.
2.
Heat oil in a pan. Fry onions and garlic until onions soften.
3.
Add aubergine, courgette and capsicum. Stir until soft. Season.
4.
Add remaining ingredients. Cover and simmer on a low flame for 20 minutes.
5.
Spoon into oiled/lined moulds and press down firmly. Turn onto plates and serve with sauce.
For the Sauce:
1.
Melt butter in a pan. Stir in flour. Cook for 1 minute.
2.
Pour in stock. Bring to a simmer.
5.
Serve with the ratatouille moulds.