Story Progress
Back to home
Restaurant Style Chicken Korma Recipe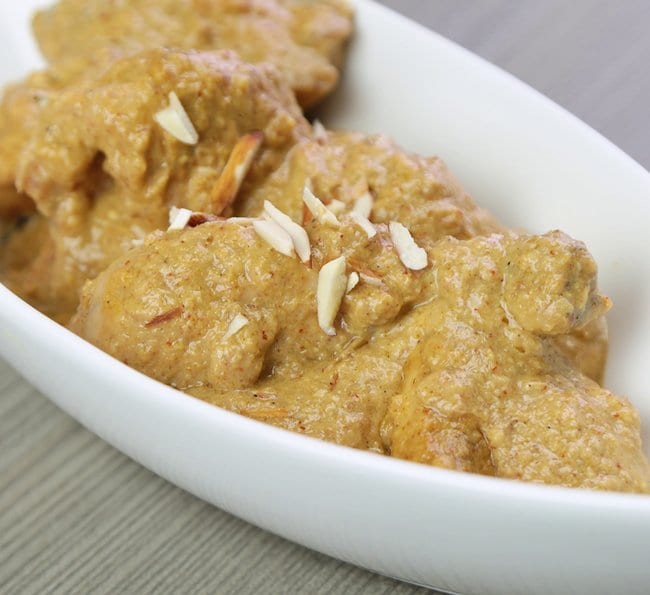 How To Make Restaurant Style Chicken Korma
Texture, taste and flavours of this chicken korma recipe is almost similar to the one you get in the restaurants of Old Delhi.

Ingredients of Restaurant Style Chicken Korma
1 Kg Chicken
500 gram Curd
5-6 Onion
5 Green Chillies
3 tbsp Ginger-Garlic Paste
2 Bay Leaves
2 Black Cardamom
3 Green Cardamom
1 stick Cinnamon
7-8 Black Peppercorns
1 Star Anise
3-4 Cloves
1/2 cup Foxnuts (Roasted)
2 tbsp Cashew Nuts
1 tsp Red Chilli Powder
1/2 tsp Turmeric
to taste Salt
3 tsp Coriander Powder
1/2 tsp Black Pepper powder
1/2 tsp Kewra
1 cup Oil
1 tsp Garam Masala
2 tbsp Desi Ghee
1.
First of all, heat oil in a pan, fry the onion till it becomes golden crisp and keep it aside.
2.
Heat a large spoon of ghee in another pan, add makhana to it and take it out after frying it.
3.
Roast the cashews lightly in the same pan and turn off the flame and roast it by adding coconut powder and keep it aside.
4.
Now put a handi on the gas, add oil to it and use the same oil in which the onions were fried.
5.
Once the oil is hot, add the chicken and fry it for a few seconds. Now add all the whole spices and ginger garlic paste to it.
6.
Take some curd, add red chilli, black pepper, salt, turmeric and black pepper and mix it.
7.
Add remaining plain curd and spiced curd to the chicken and fry it. Add desi ghee to it, it will work to enhance the taste of chicken.
8.
Now take cashew nuts, coconut powder, fry makhana and some fried onions in a blender. Make a smooth paste by adding a little water and add it to the chicken.
9.
Then mash the remaining onion and add it to the chicken and mix everything well.
10.
Sprinkle kewra and garam masala and cook on low flame for some time by covering the lid.
11.
Your chicken korma is ready, pair it with roti or naan!