Story Progress
Back to home
Roast Turkey with Cranberry Sauce Recipe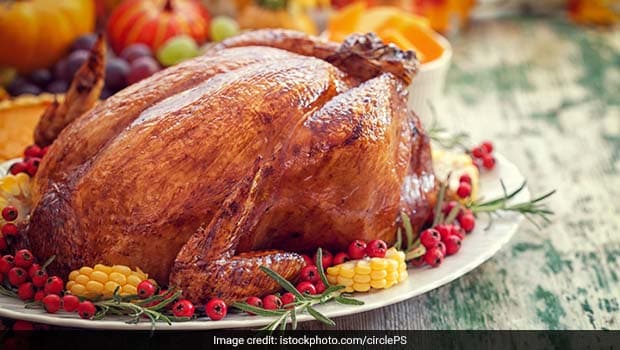 How to make Roast Turkey with Cranberry Sauce
About Roast Turkey with Cranberry Sauce Recipe: Turkey stuffed with minced chicken, pork, herbs, eggs and cream is a dish for an extra special occasion.
Total Cook Time

1 hr 25 mins

Ingredients of Roast Turkey with Cranberry Sauce
1 Turkey
500 gms chicken mince
200 gms pork meat
50 gms pork fat
60 gms pistachio
60 gms cashew nuts
60 gms raisins
20 gms carrots
2 Eggs
150 ml cream
100 ml brandy
A pinch of rosemary
A pinch of parsley
to taste Salt and pepper
150 gms broccoli
100 gms carrots
100 gms baby corn
200 gms honey glazed potatoes
150 gms butter
60 ml red wine
200 gms cranberry sauce
200 ml jus
50 gms horseradish
100 ml oil
1.
Clean the inside of the turkey, keeping the skin intact.
2.
In a mixing bowl, add chicken mince, pork fat, dry fruits, carrots, eggs, cream, brandy, rosemary and parsley.
3.
Stuff the mixture into the turkey breast and tie up to seal the mixture.
4.
Put into a baking tray with diced carrots, onions, celery, garlic and oil.
5.
Cook the turkey for about 1 hour at 300 degree C until the turkey is tender and golden brown in color.
6.
Serve with hot cranberry sauce, horseradish, buttered vegetables and glazed sweet potatoes.