Story Progress
Back to home
Roasted Broccoli and Blue Cheese Panini Recipe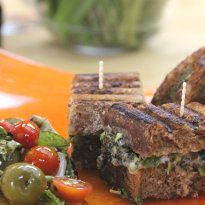 How to make Roasted Broccoli and Blue Cheese Panini
Brushed with chilli oil, bread slices are stuffed with a succulent broccoli filling and grilled, served with a zesty spring onion relish.
Total Cook Time

1 hr 15 mins

Ingredients of Roasted Broccoli and Blue Cheese Panini
2 Small Broccolis (cut into florets)
3 Spring onions (cut into half, lengthwise)
3 tsp Chilli oil
2 tsp Ready-made relish (made up of gherkins, sweet cucumber, sugar, vinegar &bell peppers)
2 tbsp Egg-less mayonnaise
60-70 Blue cheese
2-3 stalks Garlic chives, finely chopped
3-4 Green olives (marinated) with their marinating olive oil
4-5 Cherry tomatoes (cut into half)
2-3 Fresh basil leaves
1/2 tsp Balsamic vinegar
4-6 Olives (marinated)
2 slices Multi-grain bread
to taste Salt
To season Black pepper (cracked)
1.
Arrange the broccoli florets on a baking dish and season them with salt and cracked black pepper.
2.
Drizzle 1 tbsp of pickling oil from the marinated olives over the seasoned broccoli and mix them well.
3.
Roast them in the oven at 200-225 degrees Celsius for 8-9 minutes.
4.
Remove from the oven and keep it aside to cool.
5.
Season the spring onions with salt and cracked black pepper and put them onto the grill.
6.
Keep turning the spring onions and keep basting them with chilli oil.
7.
Once the spring onions are lightly charred, take them off the grill and keep them aside to cool.
8.
To make the filling, mix together, the readymade relish with eggless mayonnaise in a bowl.
9.
Then crumble blue cheese into the filling mixture, add chopped garlic chives and mix them well.
10.
Next, roughly tear in the roasted broccoli into the filling and mix well till the broccoli is evenly coated.
11.
Brush the slices of bread with chilli oil and spread the broccoli filling between the 2 slices of the bread.
12.
Brush the top and bottom of the bread slices with a little more chilli oil and grill the sandwich evenly on both the sides.
13.
To make a spring onion relish, mix together marinated green olives, halved cherry tomatoes, cracked black pepper, basil leaves, a dash of balsamic vinegar, olive oil and the grilled spring onions.
14.
Serve the sandwich with the grilled spring onion relish, cherry tomatoes and marinated olives.