Story Progress
Back to home
Roasted Herbed Potatoes Recipe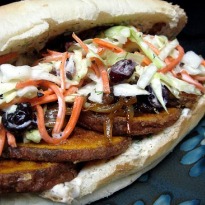 Stuff you sandwich breads with these thyme and dill tossed roasted potatoes.

Ingredients of Roasted Herbed Potatoes
1/8 cup olive oil
1 Tbsp minced garlic
1/2 tsp dried basil
1/2 tsp dried marjoram
1/2 tsp dried dill weed
1/2 tsp dried thyme
1/2 tsp dried oregano
1/2 tsp dried parsley
1/2 tsp crushed red pepper flakes
1/2 tsp salt
4 large potatoes, peeled and cubed
1.
Preheat oven to 475 degrees F (245 degrees C).
2.
In a large bowl, combine oil, garlic, basil, marjoram, dill weed, thyme, oregano, parsley, red pepper flakes, and salt.
3.
Stir in potatoes until evenly coated. Place potatoes in a single layer on a roasting pan or baking sheet.
4.
Roast for 20 to 30 minutes in the preheated oven, turning occasionally to brown on all sides.
5.
Fill the filings in the sandwich, loaded with veggies, sprinkle some cheese and enjoy.